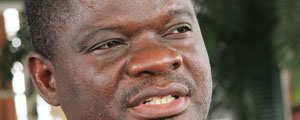 INCARCERATED MDC–T deputy national chairman Morgan Komichi, who has been in remand prison since July 28 following his arrest on charges of fraud and contravening the Electoral Act after he was found in possession of tamper-proof ballot papers, yesterday made a fresh bail application citing change of circumstances from the time of his arrest.
SENIOR REPORTERS
Through his lawyer Andrew Makoni, Komichi argued that since voting was done and the election results for the July 31 poll released, his continued stay in custody was no longer warranted.
He also contended that chances were very high that he would be appointed a senator in the new government.
But State counsel Michael Mugabe opposed the application, arguing that Komichi had not demonstrated the change of circumstances in court.
Komichi is accused of misrepresenting to the Zimbabwe Electoral Commission (Zec) that he picked up a sealed tamper-proof envelope with a special vote ballot paper belonging to Constable Mugove Chiginya from a dustbin at a Harare hotel.
The State alleges that Komichi opened, destroyed and/or interfered with the ballot papers in contravention of the Electoral Act.
Komichi is alleged to have reported that Chiginya's ballot papers were destroyed because he had voted for the MDC-T under the special vote conducted on July 14 and 15.
The MDC-T deputy national chairman has since denied the charges.
Harare magistrate Anita Tshuma deferred the matter to August 26 for ruling on the application.
Meanwhile, former Mutare West MP Shuah Mudiwa will have to wait until August 29 for determination of his fate in a court case where he is alleged to have held an unsanctioned campaign rally in the run-up to the July 31 polls.