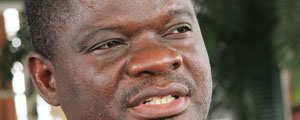 MDC–T deputy national chairperson Morgan Komichi's bid for freedom hit a brick wall yesterday after High Court judge Justice Hlekani Mwayera ruled that the magistrate who denied the appellant's bail did not misdirect herself in deciding against granting him liberty.
REPORT BY PHILLIP CHIDAVAENZI
Justice Mwayera said a perusal of the record of proceedings before Harare magistrate Anita Tshuma — who remanded Komichi in custody on July 30 — showed that the presiding magistrate properly juxtaposed the administration of justice to Komichi's freedom.
In dismissing the appeal, Mwayera said the findings of the Magistrates' Court were "well–pinned on the principle of bail" as provided for in the Criminal Procedure and Evidence Act that the right to individual liberty should not be allowed to stand in the way of the administration of justice.
"There must be a misdirection on the part of the lower court (for the magistrate's decision to be reversed), but the magistrate properly analysed the facts presented before her and came to the conclusion that releasing the appellant would endanger public safety," she said.
Magistrate Tshuma denied Komichi bail on the basis that he would interfere with State witnesses, police investigations were still premature and that the political environment ahead of the July 31 harmonised elections was tense.
Komichi's lawyer, Andrew Makoni, however, argued that the only witness he was aware of, identified as Michael Phiri, was his only alibi so interference with him would not be in his best interests. He also said since the investigation officer in the case, Chief Superintendent Crispen Makedenge, had said there was "overwhelming" evidence against Komichi there was no way he could interfere.
In response, the State — represented by law officer Edmore Nyazamba — said the charges Komichi was facing attracted imprisonment without the option of a fine, that his alibi was "a fictitious person" of unknown aboard and that there was need to protect the credibility of the electoral process in the country.
Komichi is alleged to have contravened Section 85 of the Electoral Act Chapter 2:13 which criminalises taking, destroying or opening a pack of ballot papers without authority after he was allegedly found in possession of a stray ballot on July 25.
He allegedly told Zimbabwe Electoral Commission officials that an unnamed person had picked up the envelope with the ballot papers at the Harare International Conference Centre.
Komichi was remanded to August 14.