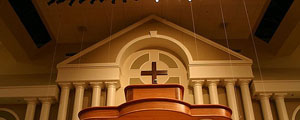 OVER seven million witnesses will gather in Harare and various cities across the world tomorrow to begin the 2013 annual district conventions, with a theme described by organisers as timely, God's Word is the Truth! — especially as millions of people face anxiety over the uncertainties of life, unemployment, high crime rate and injustice.
SENIOR STAFF REPORTER
In all, there will be 36 three-day conventions in seven different languages — Zimbabwe Sign Language, Shona, Ndebele, French, Swahili, Chinese and English — to allow people from all walks of life to have access to the truth. The Harare assembly hall alone will host more 40 000 people and attendance is free.
The convention at the Assembly Hall is the first to be held in the country. Subsequently, a series of gatherings will continue each week through October 20 in 21 towns and districts, including Bulawayo, Checheche, Chinhoyi, Mutare, Masvingo, Mutasa, Murehwa, Gweru, Karoi, Gokwe, Hwange, Mahuwe, Mt Darwin, Zvishavane and Gwanda, among others.
Spokesperson for the organisation Lloyd Likwide yesterday said because Witnesses all over the world are open-minded, they live and work with other people who do not share the same belief with them.
The convention will underscore and provide biblical support to promote strong family life, personal Bible studies and the need to avoid pursuit of wealth, attention and prominence and rather focus on building a strong relationship with God — something salvation is dependent on. The need for guidance is crucial in today's world now more than ever — for parents and young people alike.
"The convention is very spiritual. The Bible has the solutions to all of our problems: crime, family issues, prejudice. With God's Word, you have the basis to guide all of your life," Likwide said.
Activities and Bible study sessions throughout the weekend would all reinforce the convention's theme, he added. The three-day programme includes question-and-answer sessions, dramas and a baptism. The Bible-based educational programmes underscore the Witnesses' family values, the spokesperson said.
The message of tomorrow's keynote address will touch on the responsibility of all Jehovah's Witnesses to stand against false doctrines and share the Word of God by "preaching the Kingdom message all over the world".
There are about 39 000 Witnesses in Zimbabwe and the convention is open to the public, and runs through Sunday.