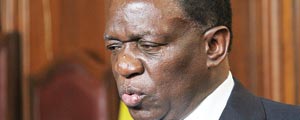 GWERU — Defence minister  Emmerson Mnangagwa has blamed parties that constituted the just-ended inclusive government for stifling turnaround at New Zimbabwe Steel, formerly Ziscosteel, by continuously haggling over the matter.
Stephen Chadenga
Mnangagwa, who is a Zanu PF politburo member and Midlands Show Society patron, told delegates at a business cocktail last Friday in Gweru that the discord in the inclusive government made it difficult to resuscitate the steel company. He said political parties were after claiming credit in implementing government programmes stalling progress in the process.
"Everyone wanted to claim merit in any positive development and it is such discord that saw Ziscosteel failing to be revamped," Mnangagwa said.
Zanu PF and the two MDC formations entered into a government of national unity in 2009 following the disputed 2008 presidential polls. Mnangagwa said Zanu PF's victory in the July 31 polls was bound to change the steel company's fortunes through the party's empowerment policies.
At a campaign rally in Gweru last month, the First Lady Grace Mugabe said Ziscosteel workers had been paid their outstanding salaries after the intervention of Zanu PF, a claim later denied by workers as a political gimmick.
However, Industry and Commerce minister Welshman Ncube has blamed Zanu PF ministers for throwing spanners in the Ziscosteel-Essar project signed in August 2011, but which is yet to fully kick off.
The deal gave India-based Essar 54% ownership and a further 80% control of New Zim Minerals, while government held the remaining 20%.