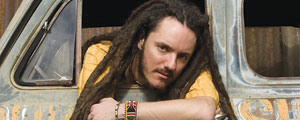 THE House of Hunger Poetry Slam will today host various Zimbabwean poets who will deliver a collection of poetry and spoken word to celebrate the eighth anniversary of the event at the Book Café.
Tinashe Sibanda
The slam is aimed at celebrating great poetry from some of Zimbabwe's liveliest young minds since it started in 2005 and also commemorate International Youth Day set for August 12.
During the event, poets will compete in a slam, culminating in prizes for the best performer and two runners-up.
Several poets that have emerged from House of Hunger have gone on to achieve international stature and these include Sam "Comrade Fatso" Monro, Tongai Makawa aka "Outspoken", and Biko "Godobori" Mutsaurwa among those who have made their mark locally, regionally and internationally.
They have also inspired a new crop of poets who have now come to the fore, and these include Tendekai Tati aka "Madzitatiguru", Arnold "So Profound" Chirimika and Momo (Moreblessing) Size.
The monthly showcase has grown into one of the most prominent spoken word and poetry events in Zimbabwe and features some of the best poets and spoken word artists of our country.
A new generation of spoken word artists found innovative means to express their vision and hopes for Zimbabwe and the result was the emergence of a raw poetry movement dubbed "House of Hunger Poetry Slam", which has become a major feature on the local arts scene.
The slam was developed as a platform for youth expression by arts organisation Pamberi Trust at the Book Café and it has been instrumental in finding platforms for quite a number of youth poets to perform outside Zimbabwe.
The House of Hunger Poetry Slam provides a vibrant platform for performance poetry with soul-searching, hot and burning or peaceful and soothing poems and on average 25 poets take part each month.
"Poets are required to register with the MC before the event starts at 2pm.They are judged by the audience and their peers, and the interaction is lively and this event is a must-attend for poetry lovers as the slam expects to hear more of Zimbabwe's vibrant poetry," noted organisers of the event in a press statement.