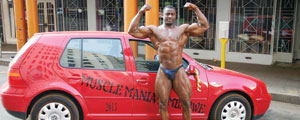 AFTER many years of competing in local competitions without any recognition, Zimbabwean bodybuilder Champion Mbewe was finally rewarded for his hard work after winning the 2013 Musclemania bodybuilding contest at Ochi City at the weekend.
DANIEL NHAKANISO
Mbewe lifted the 2013 Mr Musclemania Zimbabwe title, deposing defending champion Victor Hungwe who finished second while reigning Mr Ironman Vincent Kandiyero settled for third position.
Veteran Isaac Chimuchenga came fourth with Mugove Muhambi finishing in fifth position.
The victory completed a memorable double for the Botswana-based bodybuilder Mbewe, who is also the reigning Mr Botswana champion.
In an interview with NewsDay Sport yesterday, Mbewe said he was a relieved man after managing to win his first major title in Zimbabwe.
"I'm so happy that after so many years of trying I have finally managed to win a major title in Zimbabwe. I have won so many titles in Botswana where I'm based, but everytime I would come to compete in Zimbabwe I would come second or third. I'm glad that I have finally won a major title in my home country.
The 27-year-old Zimbabwean said he had now set his sights on winning the prestigious Mr Zimbabwe 2013 contest pencilled for November.
"I'm now definitely gunning for the Mr Zimbabwe contest which will take place on November 2, but in-between I have some upcoming competitions in Botswana which will help me in my preparations," Mbewe.
Meanwhile, Bulawayo-based Marko Mwale walked away with a housing stand after winning the 2013 Mr Musclemania wheelchair title while Emma Chituku lifted the Ms Musclemania wheelchair title. Donald Maphosa won the Junior Mr Musclemania title.
Related Topics