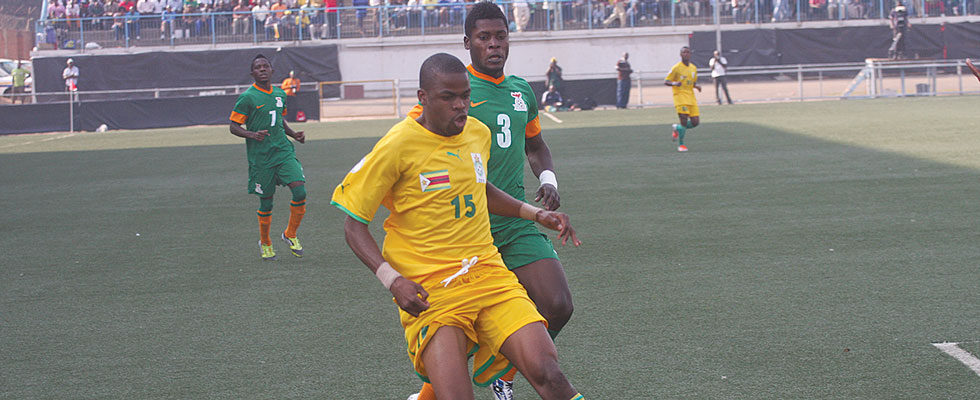 THE WARRIORS technical team has hinted at changes in the team to face Zambia in the second leg of the Chan final football qualifier in Ndola after the addition of Kuda Mahachi and Bruce Kangwa to the squad preparing for the crucial away match.
REPORT BY KEVIN MAPASURE
The Warriors will be looking for at least a scoring draw after both teams drew blanks in the first leg at Rufaro on Sunday.
The squard was back at training yesterday morning at Gwanzura as the technical team searches for solutions for the goal-shy strike force.
Assistant coach Jairos Tapera yesterday said the team had played well in the first match, but only failed in front of goal.
"The team played well in the first leg, it's just that we couldn't convert the chances we created, but we are going to Zambia with the same approach," said Tapera. "We are hoping that Zambia will play under home pressure like we did here yesterday (Sunday). I think it's going to be another open game like it was here, and I think the first team to score will scrap through.
"We didn't have any problems except the finishing, but since we will be playing away from home there should be a certain tactical approach and we might introduce other guys to add power."
Kangwa had been included in the squad to prepare for the first match, but late communication saw him miss out.
This time he is in the squad and will be looking to wrestle the left-full back position from Triangle's Blessing Chimwamuchere, while Chicken Inn's Mahachi will be looking to make an impression and win a ticket to Zambia.
Harare City's Silas Songani, Dynamos utility player Oscar Machapa as well as goalkeeper George Chigova were back at training after they failed to make the squad for the first leg.
Captain Masimba Mambare, who struggled for fluency on Sunday, said the team would try to get the elusive goals as a collective force and would not leave the responsibility to the strikers only.
"We failed to get the goals, but that we managed a draw is a starting point," said Mambare. "We should remember that on the last two occasions we played them we lost both matches and after a draw on Sunday, we have laid a platform for another positive result. We want to go there to play as a team and search for the goals as a unit and it's not the strikers' responsibility alone."
Chicken Inn's Tendai Ndoro and FC Platinum's Nelson Maziwisa started up front on Sunday while Caps' Dominic Chungwa was introduced late.
Coach Ian Gorowa led the training session yesterday where players who featured on Sunday, had a lighter workout than those who were not fielded.
The session was centered on chance conversion and Tapera said they would continue to work on that hoping to upstage Chipolopolo in their own backyard.
The Warriors are hopeful they can express themselves away from the pressures of an expectant and impatient crowd.