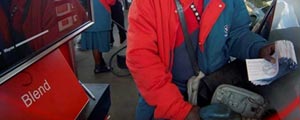 THE price of fuel in Bulawayo has slightly increased contrary to vehement denials by the Zimbabwe Energy Regulatory Authority (Zera) with garages yesterday confirming the hike amid fears the increase might spark rises in the prices of basic commodities.
Gamma Mudarikiri/ Pamela Mhlanga
Yesterday some garages in Bulawayo were selling a litre of petrol for between $1,56 and $1,70, while diesel was selling between $1,40 and $1,50 per litre.
However, other suppliers, particularly Redan and Sakunda, maintained the old price of $1,52 and $1,55 for petrol and diesel between $1,35 and $1,40.
In Harare, however, most garages had not increased the prices. On Monday Zera denied that fuel prices had gone up.
"Zera views such reports as trying to instigate unnecessary fuel hikes not at all related to any changes in the cost drivers of fuel," the energy regulator said in a statement.
Bulawayo public transport operators, however, confirmed the latest fuel price increases and bemoaned the hike. They said the development was likely to cripple the transport industry.
"It is disheartening to note that the price of fuel has gone up at some service stations and what I can say is that the development is likely to cripple our operations in the transport industry and it will be hard to put food on the table for our families," said Nicholas Sithole, a taxi driver plying the Hillside route.
The slight increases in the price of fuel coincided with the controversial re-election of President Robert Mugabe in an election whose outcome has been rejected by the MDC-T.
The hike in fuel prices follows another increase when the government raised excise duty on fuel by at least 20%, a cost which suppliers passed on to consumers.
Analysts yesterday said the hike in the fuel price was likely to have a ripple effect and push up the prices of other commodities unless government intervened.
Economic analyst Eric Bloch although attributing the hike in the fuel price to the rise in oil prices globally, said the development would push up inflation by an estimated 2% and this would have a knock-on effect on other goods and services.
"The rise in fuel prices is inflationary and this will have a direct impact on the operations of business," said Bloch.