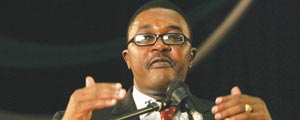 ZIMBABWE has banned helicopter flights over the Victoria Falls during the United World Tourism Organisation (UNWTO) General Assembly, a move that has riled tour operators, amid reports that their Zambian counterparts were not affected by the same move.
Report by Richard Muponde
Tour operators in the resort town said the ban would affect their operations as they made bookings as far back as last year. Refunding tourists could be impossible as modalities have not been made.
Although a comment could not be obtained from Zambian authorities, Tourism and Hospitality Industry minister Walter Mzembi confirmed the temporary ban of flights on the Zimbabwean side.
"It's common sense my brother," the minister said when contacted for comment. "Could helicopters fly over the venue of UNWTO when plenary sessions are underway?
"It's like inviting Suluman Chimbetu to come and play his Batai Munhu song at the door of a cathedral when the bishop is in front of the congregation praying.
Would that be feasible? So it's true that we have banned them from flying, unless we have a break."
Reports are that Zambian operators were not affected by the same ban as their government has not issued such a directive.
"However, tour operators said they were not against the directive, but asked the authorities to give them parameters from which to operate than issuing a blanket ban on flights.
The president of the Employer's Association of Tour Operators and Shearwater Adventures public relations manager Clement Mukwasi said the government should give them a parameter of about 500 metres from the venue to fly tourists over the falls than a total ban.
"From my understanding, the Marquee Convention Centre is sound proof," he said. "It's highly unlikely that the helicopters would disturb the sessions.
"However, if there is fear that we could disturb the conference, we could fly far from the venue."
Mukwasi said flying was a popular pastime for tourists and the ban would have an adverse effect on tourism.
He said they were not only geared to fly tourists, but delegates coming for the international tourism indaba.
Helicopters in the resort town fly over the mighty Victoria Falls, orbiting the waterfalls and passing over the tropical Rain Forest, flying up river, then crossing over to the Zambezi National Park before returning to touch down.