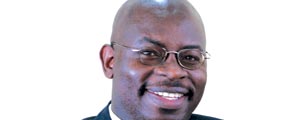 Barclays Bank of Zimbabwe Limited recently released its unaudited results for the half year ended 30 June 2013. The bank is quite explicit about its customer goal, or what it calls "Customer Centricity".
Report by Omen Muza
"Our Goal is very simple: to make Barclays the 'Go-To' bank for all our stakeholders. This translates into our customers instinctively making us their partner of choice", managing director George Guvamatanga said.
Board chairman Antony Mandiwanza concurred and thanked colleagues for exerting "effort to build the 'Go–To' bank".
As you can see, they both don't mince their words about their intention. They don't talk about becoming "A" "Go-To" bank; they talk about becoming "THE" "Go-To" bank. But does the situation on the ground back their pronouncements or is it simply a wish for which no one should hold them accountable?
Lending: A loan-to-deposit ratio of 42% is rather low, but Mandiwanza argues that it has to be looked at in the context of the high level of non-performing loans which he says have been "assessed by independent analysts to be higher than international benchmarks". While maintaining "strong liquidity ratios" is a prudent thing to do, it is not always necessarily something to be proud of when the economy is in dire need of liquidity — it flies in the face of the "Go-to" status. In order to achieve its stated goal, the bank has to find ways of getting around the lack of a viable money market and lender of last resort arrangement in its effort to support the real sector more meaningfully. That's called innovation.
Barclays cannot claim the mantle of customer centricity while pursuing a lending policy that does not appear to be reasonably inclusive. By adopting an ultra-defensive lending posture that some consider exclusive, the bank appears to contradict one of its key values — Stewardship, which it ironically considers to be a key part of the "bank's licence to operate in the communities we do business, and the basis on which we earn the trust of our customers and other stakeholders," according to Mandiwanza.
Product Development: To its credit during the review period, Barclays pursued an aggressive digital channel agenda under which the internet banking offering was refreshed by introducing the Barclays App for free download in the Apple iTunes Store and Google Play Store for Android devices. Two new services were also launched, namely Cashsend, the money transfer solution which allows Barclays customers to send money to non-customers and Hello Money, their mobile banking platform. If pursued to its logical conclusion, the digital channel agenda can deliver massive convenience and affordability dividends to the banking public, something that should work well for the bank's ambition to eventually become the "Go-To" bank.
Reach/Accessibility: Any bank that wants to be the "Go-To" Bank has to be easily accessible. With — according to their website — only 25 branches in Zimbabwe, almost half of which are in Harare and 45 ATMs, becoming the "Go-To" bank can become an uphill struggle particularly when competing against the likes of CABS and CBZ, both with close to 70 branches countrywide. CABS, for instance, has the largest Pay Point network in the country with over 850 POS terminals. However, Barclays appears to be waking up to this dynamic approach, hence the recent installation of 23 new ATMs across the country and the overdue initiative of joining the Zimswitch network, which they had snubbed for far too long for reasons I don't understand.
Profitability/Financial Performance: With the kind of human and financial resources at its disposal, a profit of only $800 000 is below par for Barclays by any standards, justifying the sentiments of those who accuse the bank of a non-committal attitude. Such levels of financial performance do not augur well for a bank with ambitions of becoming the "Go-To" bank. To their credit, the Barclays board does not gloss over this oddity and Mandiwanza duly acknowledges that the bank "still has a long way to go to regain some lost ground". It's about time because becoming the "Go-To" bank is not typically about regaining lost ground, but about setting the pace. The fact that the 37% growth in profitability was largely due to cost containment and not transaction volume growth speaks volumes.
Size matters: If your strategy is to become the "Go-To" bank, you ideally want to be big because it gives you critical mass and scale to compete effectively with equally big players. Barclays' balance sheet size of $290 million pales into insignificance when compared with CBZ Bank's $1, 2 billion balance sheet, for instance.
Youth Focus: One area in which Barclays is getting it right in pursuit of the "Go-To" Bank strategy is its Corporate Social Investment (CSI) activities. If you want to become a "Go-To" bank, you must target the youth demographic because that is where the future lies. The bank's partnerships with UNICEF, Junior Achievement Zimbabwe, BOOST Fellowship and Grass Roots Soccer can potentially impact positively on the lives of at least 9000 youths by way of imparting life skills and transferring financial as well as enterprise skills.
While "security of brand" is indeed a strong point and source of pride, it must be used more effectively if the bank is to achieve its bold objective. You can't become the "Go-To" by sitting on fences especially if your market presence is 100 years old because you are expected to have developed the confidence that comes with experience. As one of the two oldest banks in the country, Barclays should be playing a clearly defined leadership role, otherwise the bank will become the "Go-To" bank for a minority of Zimbabweans, which I am sure is not their objective.
Feedback: omen.muza@gmail.com. Omen N.Muza writes in his personal capacity. You can view his LinkedIn profile at zw.linkedin.com/pub/omen-n-muza/30/641/3b8