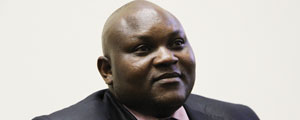 MASVINGO — Former Youth Development, Indigenisation and Empowerment deputy minister Tongai Matutu's car has been declared a write-off after his nephew, in an apparent intention to impress a girlfriend, took it on a joyride and smashed it into a tree.
Report by Tatenda Chitagu
The car, an Audi A6, is estimated to cost $50 000.
Matutu said the accident occurred on Tuesday morning, when his nephew wanted to visit his girlfriend and tried to impress, showing he lived "in the fast lane".
"I had tasked him to wash the car, but he then stole the car to see his girlfriend and crashed into a tree," he said. "The car is a write-off."
The accident occurred along Carry Street in the plush Rhodene low-density suburb of Masvingo.
"I got a phone call (about the accident), but I was surprised because, as far as I knew, my nephew cannot drive. I checked the car in the garage and found it gone. I had never seen him attempt even to start the car."
The nephew, whose identity has not been given, sustained minor injuries.