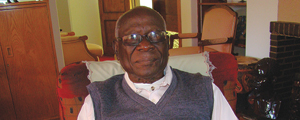 FORMER Cabinet minister and Zanu PF founding member Enos Nkala is reportedly battling for life and has been admitted to a private hospital in Harare.
REPORT BY POLITICAL EDITOR
Sources told NewsDay yesterday that the former Defence minister was admitted to the hospital's high dependency unit on August 7 over an undisclosed ailment.
"He has been here since the 7th (of August), but you can get further details on his condition from relatives or doctors authorised to do so," said the source, who requested anonymity on professional grounds.
Although Nkala's condition could not immediately be established, reports early this year indicated the veteran politician had developed kidney and heart-related complications — leading to his admission at Mater Dei Hospital in Bulawayo between March and April.
Nkala, a former close ally of President Robert Mugabe, was instrumental in the formation of Zanu PF alongside other veterannationalists like Mukudzei Midzi, Henry Hamadziripi, the late Herbert Chitepo, Edgar Tekere, Ndabaningi Sithole and Leopold Takawira. The party was formed at Nkala's Highfield house in Harare in August 1963.
The veteran politician left the government in a huff in the 1980s after being fingered in the infamous Willowgate scandal where top government officials, using their positions, bought vehicles from Willowvale Mazda Motor Industries at low prices and resold them at inflated prices for self-enrichment.