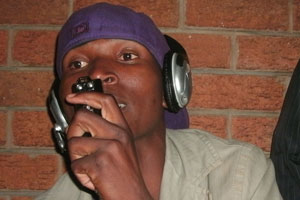 The highly- publicised dancehall fiesta dubbed the Zim Dancehall Heroes Special Part II held at Dzivaresekwa Stadium on Saturday night lived up to expectations with artistes putting up sterling performances.
Report by Entertainment Reporter
Even though the event started later than scheduled, hundreds of dancehall enthusiasts who thronged the venue were left calling for more as most of the artistes lit up the show with their energetic performances.
The show, which was a belated Heroes' Day commemoration, saw both renowned and upcoming musicians on the local dancehall scene in the form of Guspy Warrior, Freeman, Shinsoman, Sniper, Dadza D, Lady Squanda, Killah T, Princo Spice and Bounty Lisa among others sharing the stage.
The gig was opened up by an upcoming artiste Bounty Lisa. Though she is still new in the genre, she did not disappoint as she put up a polished act before handing the mic to Lady Squanda.
Shinsoman of the Mbambamba fame, who calls himself Dancehall Father and Dadza D showed that they are serious contenders to the dancehall throne.
They mesmerised the audience with their well-choreographed acts that had fans singing along to their famous hits.
Donald Chirisa, also known as Sniper Storm, was at his best. He performed his popular songs among them Kuwarira Mukati, Porongi and Empress.
Sniper has managed to maintain his status since making his breakthrough on the musical scene with his hit track Kubhinya.
Freeman, aka the Dancehall Doctor, who was playing in his own backyard, got to the stage around 2am taking over the microphone from Mbare-based Killer T.
Jay C, who is steadily rising on the dancehall scene, did not disappoint as he had a good day in office.
The show was also ignited by the energetic Guspy Warrior (real name Emmanuel Manyeruke) who put up a perfect closing act when he took to the stage around 4 am.
Guspy Warrior, who was recently involved in a car accident was at his best sending the crowd into frenzy when he belted out some of his hit songs that included Seunononga, 31 October and Summer Time, among other songs consolidating his growing profile in the genre.
One of the event organisers Patson Chimbodza of Chipaz Promotions, hailed the musicians for their performance and said they are going to continue promoting the dancehall genre.
"I am happy for the success of the show and pleased by the way all the musicians performed as they were in their top form that kept the show alive. I appreciate them for honouring their fans by putting such top drawer acts," said Chipaz.
"We have a lot of untapped talent in the ghetto and when it comes to dancehall, Dzivaresekwa is a powerhouse where you find the Dangerzone family which has produced several dancehall artistes and that is why we decided to bring the show to its roots," he added.