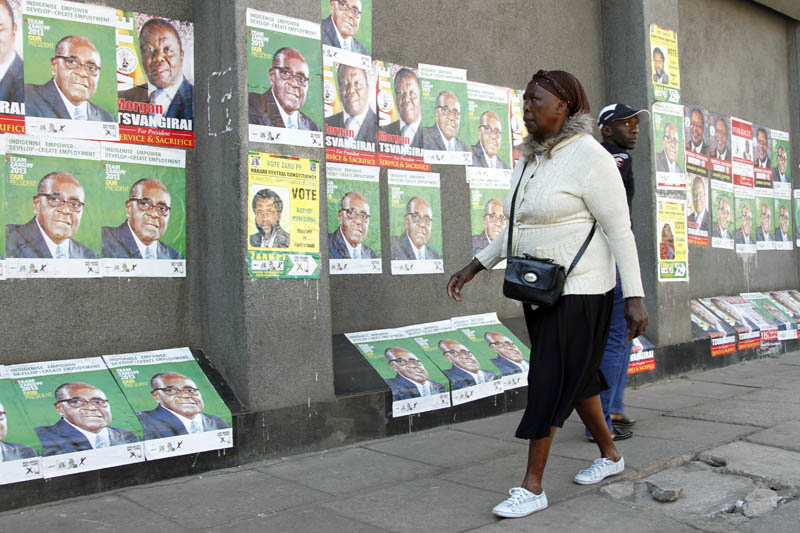 WHILe 61% of Zimbabweans are celebrating their landslide win during the July 31 elections, 39%  of the population are still recovering from post-election distress sickness (PEDS).
Gari Mutongoreya
The winner in all the election period is neither Zanu PF nor MDC. The winners are bad debtors!  If you look closely, the biggest bad debtors of council rates and taxes are politically-connected people.
Ordinary ratepayers would always pay their rates as they knew that come debt collection period, they are the first to be harassed by council officials.
Their houses are the first to be disconnected from essential supplies such as water and electricity. This could not be enforced on the politically-connected ratepayers.
The same politically-connected people owe rural district councils (RDCs) large amounts of money for unit tax for their massive A2 farms.
When I did my Master in Business Administration degree research on revenues in Mashonaland East province for RDCs in 2005, I noted that there was a massive decline of revenues from unit tax from farms due to resistance by politically-connected people as they claim that they have a right to do farming without paying any taxes to local authorities for some strange dubious reasons.
Take for instance, Goromonzi, where almost all members of the Zanu PF politburo or central committee were allocated farms — 80 percent of these A2 farmers were in arrears since taking over the farm.
The story is different for A1 farmers who are very loyal in honouring their debts to council as they are afraid of repossession and have no political connections to defend them.
This is a very devastating scenario in terms of revenues for all the agro-dependent councils especially peri-urban local authorities with prime land.
These councils used to do very well in previous years in terms of road maintenance. The only way these councils are surviving currently is through the sale of land as residential stands and commercial stands.
The rationale to write-off these debts was also viewed as a way to allow these politically-connected bad debt ratepayers to stand as councillors in the just-ended elections.
This is because some councils had introduced a system of issuing a rate clearance certificate before being allowed to stand as a councillor of any party.
Now this debt clearing allowed even those who had not even paid a cent to council since settling in a farm in the year 2000 to be council chairpersons. What example would such a chairperson set to the other ratepayer?
They have managed to get away from almost every debt since 2000. This even includes the loans from the Reserve Bank, Grain Marketing Board, various input schemes and the mechanisation programmes.
But out of all these write-offs, their yield is still very low considering that the cost of production is next to nil. It's all but spoon-feeding to a fat kid that always cries on the mother's back. Councils were struggling to provide services due to lack of funding and also due to corruption and incompetence.
The last time I remember councils receiving administrative grants was way back in 2003, and the amounts were less than 1% of the administration cost.
Eighty percent of all the little revenues received were going towards salaries and councillors' allowances, now almost 100%, will go to overheads and corruption.
Most RDCs will be like those African councils prior to the amalgamation of rural and district councils which were mainly running beerhalls and not doing their core 64 functions.
Ratepayers who used to pay their rates in time will start to accumulate debts in anticipation of future write-offs and there being no incentive in early payment of debts.
Unless the government provides some form of grant to these councils in line with the amount of debt written-off, we should expect less refuse collections, more sewerage pipe bursts, less public toilet cleaning and more load-shedding.
Instead of announcing debt write-off as a campaign gimmick, careful planning was supposed to be done to ensure that both councils and ratepayers are winners. Now it looks like the defaulters are always winning.
The best approach government could have taken was to propose a debt write-off, but after being reviewed by a small working committee on debt write-off through the various associations of these councils. A pari-passu debt write- off was an option, such as writing off 80% debt for 2009, 60% for 2010 and 30% for 2011.
Those who had settled their accounts should also be credited or discounted on their future rates to continue to encourage early settlement of accounts.
Gari Mutongoreya is a municipal accounting specialist and consultant on international public sector accounting standards.
He was a Provincial Treasurers Chairperson for Mashonaland East and Masvingo. He is a practising accountant based in Cape Town. E-mail him: garikaicolzim@gmail.com