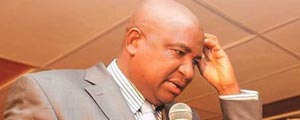 Flamboyant businessman Phillip Chiyangwa has failed in his bid to represent Zanu PF in the House of Assembly after losing the Chinhoyi seat to MDC-T's Peter Mataruse.
REPORT BY MOSES MATENGA
Expelled former advisor to the Reserve Bank of Zimbabwe governor Munyaradzi Kereke romped to victory after beating Zanu PF's preferred candidate Elias Musakwa in Bikita West.
Results released by the Zimbabwe Electoral Commission last night showed that Zanu PF had taken an early lead in parliamentary polls.
Of the 28 results released by 9pm last night, the MDC-T had only won three seats in Nkulumane where Thamsanqa Mahlangu polled 7 045 votes, in Pelandaba/Mpopoma where Bekithemba Nyathi garnered 6 024, and Mataruse who got 9 863 in Chinhoyi.
Media and Information minister Webster Shamu got 15 687 in Chegutu East against the MDC-T's Tawanda Bvumo, who garnered 2 713 votes.
Christopher Mutsvangwa (Zanu PF) won in Norton after garnering 10 592 votes against the MDC-T's Voice Chinake, who polled 9 360 votes. In Kadoma Central, Fani Phiri (Zanu PF) got 9 571 votes after beating the incumbent Editor Matamisa (MDC-T) who garnered 9 005. Sanyati went to Blessed Runesu (Zanu PF) after he got 11 332 against the MDC-T's Abel Edziwa who got 3 093. Zanu PF's Peter Haritatos retained Muzwezwe after polling 18 832 votes against the MDC-T's Madock Mushangadoro, who got 3 029.
In Mhondoro-Ngezi, Mike Gava (Zanu PF) garnered 13 476 votes to beat the MDC-T's Tirivanhu Juru, who got 3 564.
Chakari went to Adrian Musiiwa (Zanu PF), who polled 19 540 votes, beating the MDC-T's Asiyatu Phiri who got 1 642. In Masvingo province, Zanu PF won Zaka North, Zaka Central, Zaka West, Chivi North, Bikita South Chiredzi East, Chiredzi South, Chivi South, Gutu Central, Gutu South, Gutu East and Chivi Central.