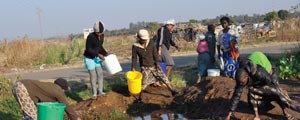 THE water problems that have bedevilled Chitungwiza residents for years have intensified in recent weeks with some areas that used to get water during the night now accessing it only once a week raising fears of disease outbreaks in this sprawling city of close to two million people.
REPORT BY PHILLIP CHIDAVAENZI
This dormitory town of Chitungwiza, located some 27km south of the capital, is in a serious crisis, according to town clerk George Makunde, who says city fathers have no alternative plans through which residents could be assisted unless the town secures its own water sources.
Makunde said in an interview on Wednesday that while the occasional supply of water to residents using bowsers could have been considered, this was problematic as the city had no source of clean water other than Harare.
"We have no option because our only source of water is the City of Harare. That is our sole provider. We could also have considered the issue of boreholes, but the problem is that the majority of the aquifers in the country are contaminated so even if we try boreholes they may be a danger," he said.
Residents that have drilled boreholes on their premises cry that they yield no more water. The water table has fallen as the dry season approaches.
The municipality has been flexible on the by-laws prohibiting sinking of boreholes in view of the water crisis, but it has urged residents to use the water for purposes other than drinking as the water is contaminated.
According to Chitungwiza Residents and Ratepayers' Association chairperson Arthur Taderera, residents had since given up hope that a lasting solution would be found to the city's water problems.
"Conditions are pathetic. We have areas where people have not received water for the past three years. Boreholes built by MPs using Constituency Development Fund allocations are now down and those that are functioning are overwhelmed," he said.
Chitungwiza has battled critical water shortages for years and the problem has been exacerbated by the town's failure to have its own water source. The dormitory town was meant to absorb population pressure from Harare, but has battled, apparently in vain, to secure adequate water.
While the town requires 45 megalitres of water daily, Harare was providing only 30 megalitres or less, Makunde said.
"City fathers have no alternative plans through which residents could be assisted unless the town secures its own water sources."