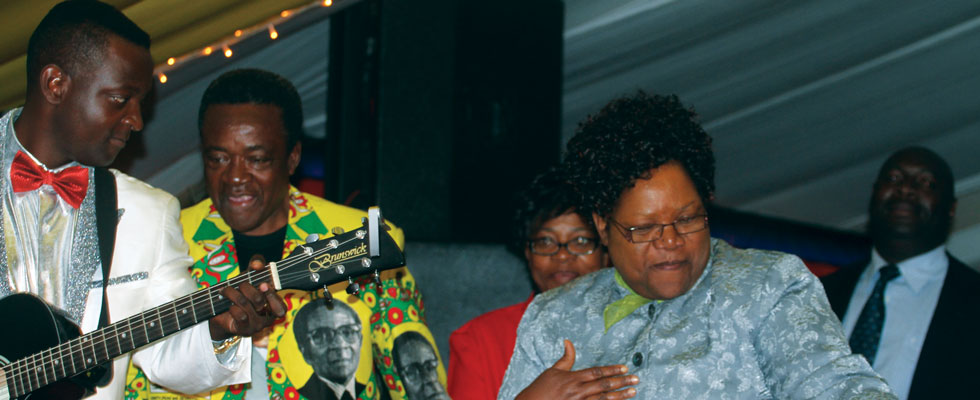 IN a gesture imitating a flying bird, Vice-President Joice Mujuru jovially made her way out of a marquee that housed the Simon "Chopper" Chimbetu commemoration concert at Belgravia Sports Club on Wednesday night.
Report by Dalphine Tagwireyi
Dancing to Sulumani Chimbetu's song Young Man, she slowly "flew" out of the venue moving in a routine that imitates a flying hornbill synonymous with dendera music.
The packed tent reverberated with whistling and ululation as the crowd cheered her.
It was a unique exit for a guest of honour who had closely followed proceedings for about four hours in honour of a fallen music hero.
Despite the commemotations almost turning into a Zanu PF rally, as the party's officials bragged on the podium about their victory in the recent harmonised elections, the Simon Chimbetu commemoration concert was a spectacular event.
Never before has the country witnessed such a glamorous event in honour of a late musician.
However, the involvement of Zanu PF officials was not surprising because Simon did not make his political affiliation a secret. In addition, the provincial hero status that he was given by the party says it all.
The officials that included Webster Shamu, Tendai Savanhu, Flora Buka, Walter Mzembi, Esau Mupfumi and Dexter Nduna apparently had a happy night out.
Besides the politicians, fans, musicians and corporates strongly supported the event making it historic.
About 600 people graced the occasion to mark eight years after the death of Simon.
Musicians like Jah Prayzah, Machanic Manyeruke, Plaxedes Wenyika-Joka, Dudu Manhenga, Tendai Manatsa, Selmor Mtukudzi and Extra Large attended the concert.
Giving her speech as guest of honour, Mujuru emphasised the need to embrace African values. She was supporting a track saluting African children that Saiwe Chimbetu had just performed.
"It is very inspiring to see young people like the Chimbetus continuing to spread messages through songs," said Mujuru.
"This is the indigenisation that our party preaches. Young people should be their own bosses rather than being exploited. We should not go back to the era that we fought to eradicate."
Sulumani said he felt honoured to have a father who taught him the true value of embracing African pride.
"Today the family stands in solidarity in honouring the man who unified us. The family should work together and avoid divisions," he said.
He then called his cousin Tryson and thanked him for being present when many people had tried to fan enmity between them.
A documentary featuring Simon's photos and comments from family members was screened during the concert.
Compilation For My Dad, an album that was compiled by Sulumani, was released and auctioned for $1 800.
Moonlight Funeral Services won the bid. Proceeds from the commemorative events would be channelled towards renovating Simon Chimbetu Primary School in Chegutu.
The events continue on Sunday with a family show at Harare Gardens.  The show is expected to feature Alick Macheso, Jah Prayzah, Peter Moyo and Mathias Mhere supporting Allan, Sulumani, Tryson, Douglas and Saiwe Chimbetu.
Patson Chimbodza of Chipaz Promotions, who is organising the Harare Gardens gig, said the show would be Harare's mega event for the mass music market to celebrate Simon's works and achievements.
"We want to honour a great music icon in a big way. All the leading sungura musicians of the moment have agreed to be on one stage to salute Simon Chimbetu," said Chimbodza.