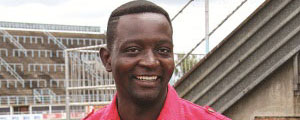 ORCHESTRA Dendera Kings (Pvt) Ltd will from tomorrow showcase the works of late dendera musician Simon Chimbetu at the Harare Agricultural Show that ends on August 31.
Report by Entertainment Reporter
The private company is run by Simon's son Sulumani Chimbetu.
The showcase is part of the ongoing Simon Chimbetu commemoration events. The final event of the commemorations would be a show at Pamuzinda Highway X-scape on August 30, which would double as Sulumani Chimbetu's farewell show ahead of a tour of South Africa.
Other events to honour Simon that were held this month include a tribute concert at Belgravia Sports Club and honourary gigs at Harare Gardens and Chinhoyi Stadium.
Speaking about the agricultural show exhibition, Sulumani's publicist Joe Nyamungoma said they would showcase a documentary, pictures and music by the late dendera icon.
"There would be a lot of activities on that stand and people can come and relive the memories of Simon's work," said Nyamungoma.
"We thank the people for the support they have shown so far and we encourage them to come for the last event of commemorations at a show at Pamuzinda Highway X-scape before Sulumani leaves for South Africa."
The farewell show will feature Peter Moyo and new outfit Extra Kwazvose as well as Dembo brothers Morgan and Tendai.
Sulumani is expected to perform at Safari Hotel in Johannesburg on September 6. The dendera musician will share the stage with Mambos Express Band.
Nyamungoma said the show was dubbed Batai Munhu paJozi and would be one of their regional tours to reach out to Zimbabweans outside the borders.