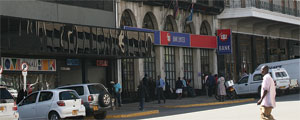 THE country's largest banking group, CBZ Holdings' profit for the six months to June has narrowed to $15,9 million from $18,3 million achieved during the same period last year due to a growing interest expense, operating expense and acceleration in impairments charges.
Report by Acting Business Editor
Interest expense, the amount reported by a company or individual as an expense for borrowed money, rose to $34,9 million during the period under review from $26,1 million recorded during the same period last year.
Impairment charges more than doubled to $6,6 million reflecting a high level of non-performing loans while operating expenditure rose to $69 million from $64 million recorded during the same period last year. The developments comes at a time when the economy witnessed a subdued performance during the first half of the year with the operating environment remaining largely illiquid. Real gross domestic product is now expected to grow by at most 4%, compared to the average 7% per annum recorded in the previous periods.
Outgoing Finance minister Tendai Biti said the economy had contracted by nearly 3% during the first quarter of the year due to uncertainty.
The rate of inflation has however remained relatively stable, within the single-digit levels and is broadly in line with that of major trading partners.
Annual inflation opened the year at 2,51%, and declined marginally to close the first half of the year at 1,87%. The downward trend in the annual rate of inflation has been attributed to the fall in crude oil prices and movements of the South African rand exchange rate.
"This sluggish performance lies in the severe decline in net investment in the productive sectors, weak medium-term export growth prospects and internal macroeconomic resource imbalances resulting from a growing public debt," said CBZ chairman Luxon Zembe. "The financial services industry in particular has been negatively affected by a declining deposit base coupled with the impact of the adoption of the memorandum of understanding (MoU) on bank charges.
National savings continue to decline in tandem with the liquidity levels in the market."
Early this year, the Bankers Association of Zimbabwe signed an MoU with the Reserve Bank of Zimbabwe to lower bank charges as well as interest on loans.
The group's net interest income, rose to $43,9 million from $41,4 million banks as most adopted a cautious lending approach during the period under review due to the high levels of non-performing loans and uncertain economic environment as the country gears for elections. Basic earnings per share declined to 5,64 cents from 5,84 cents recorded last year.