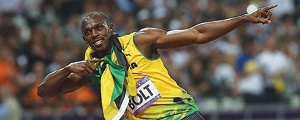 MOSCOW — Usain Bolt is undoubtedly the biggest name in world sport, but unless someone emerges who is able to realistically challenge his hegemony, then even the majestic Jamaican might begin to lose some of his stardust.
Reuters
Bolt completed another sprint double when he added the world 200 metres title to the 100 he took last Sunday, but his victory left something of a hollow feeling, achieved as it was with him easing up in the last 15 metres.
Having secured the same double at the last two Olympics and the 2009 world championships and almost certainly been denied another only by a false start in the 2011 world 100m final Bolt's victories are less races than processions.
Coming off an injury-hit start to the season, his winning times in Moscow — 9.77 and 19.66 seconds — are way down on his 2009 world records of 9.58 and 19.19, but still nobody was even remotely close to challenging him.
The Jamaican, always more at home in the longer sprint, was completely relaxed as he prepared for the race and did not change his demeanour as his giant stride ate up the ground on the opening bend.
It was in the bag halfway down the straight and he eased up in the last few strides, while the rest of the field were bursting their lungs in his slipstream in the fight for the minor medals.
Compatriot Warren Weir, bronze medallist in the Olympics, ran well in lane eight to take silver in a personal best 19.79, while Curtis Mitchell grabbed the bronze for the United States in 20.04, preventing a Jamaican clean sweep by one hundredth of a second as he held off Nickel Ashmeade.
"After 150, I looked across. I saw Warren there and knew he was tired so wasn't too stressed about that. I looked to the other side and there was nobody there so I thought I'd probably won it," Bolt said.
"When I started getting tired in the last 15 metres I thought 'why not back off?' to make sure I was okay for Sunday (the 4x100m relay) and the rest of the year.
"I'm all about winning championships and if I run 20 flat to win a championship, I'm okay with that," he said.
"I love the 200, everyone knows that. The 100 is for the fans and for the show, fastest man in the world and all that, but for me it means more to come here and defend my 200 title."