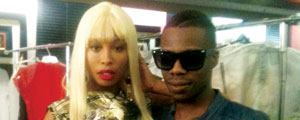 AS the nation gears for yet another showcase of the Annual Zimbabwe Fashion Week that will run from August 29 to 31, talented fashion designer Ardby Tinashe Phiri aka Znzorzi Ardby is set to parade his latest collection, A True Zimbabwean Story.
Report by Entertainment Reporter
This collection is inspired by the Aubergine Fruit. Phiri is a young passionate designer who claims to be "The Messenger of Style" that was sent to show women the pathway to glamour.
His ultimate mission is to create the blouse, skirt, dress and jacket that every woman desires. His vision is to ultimately create a brand that epitomises a world that embraces women's style and help celebrate women's femininity in a new, innovative and authentic way.
"My designs are basically a promise of tomorrow and a celebration of today," he said.
Phiri said July 2012 marked an exciting moment in his fashion career when he was accorded the opportunity to intern with South African fashion guru David Tlale.
During his stint in SA, Phiri was recognised as one of the two designers chosen from Southern Africa after sending his fashion portfolio to the New York Fashion Week. He was the only black designer from Africa that showcased there.
He said he learnt about fundamentals of fashion in depth, iconography, brand building, advanced pattern analysis and construction as well as the visual power of fashion at the David Tlale Haute Couture Fashion House.
He ended up designing the Van Der Tlale range for ladies and the collection he designed will be available this summer in over 16 Young Designer Emporium Stores in South Africa.
"At that time I met and worked with South Africa's great artistes and politicians such as musician Yvonne Chaka Chaka, President Jacob Zuma's wives, Julius Malema, choreographer Somizi Mhlongo, socialite Khanyi Mbau, gospel singer Rebecca Malope and award winning Isidingo actress Kgomotso Christopher," he said.
Phiri was also part of the most prestigious African fashion events like the Mercedes Benz Fashion Week Africa and the Mercedes Benz Fashion Week Johannesburg.
Born in 1990, Phiri says he was always fascinated by stylishly dressed women. During his primary school years he excelled academically and always received some form of accolade, but the creative part of his personality was ignited following an encounter with a Japanese teacher named Yukiko Omura.
"Znzorzi Ardby was given birth to when I was studying Chemical Engineering at the University of South Africa as I was amazed by the Avant Garde designs I saw and quickly had a light bulb moment, discovering my passion and purpose for life.
"I quickly subscribed to the fashion bible — Vogue — and spent most of my student pocket money attending fashion shows such as the Audi Joburg fashion week and by the end of his first year studying chemical engineering I decided to forsake the engineering career, marking the beginning of a fashion journey," he said.
Phiri packed his bags and headed for Chinhoyi University of Technology were he enrolled for a four-year honours degree in Fashion Design and within the first month of enrolment had completed three text books on critical information about the fascinating world of fashion.
He said at that point he managed to stay on top of his class and was awarded university book prizes every semester for having the highest number of distinctions and was furthermore was elected to be a representative for the school of art and design in the student representative council (2011-2012).
Fashion lovers can grace this talented showcase during the Zimbabwe Fashion Week.