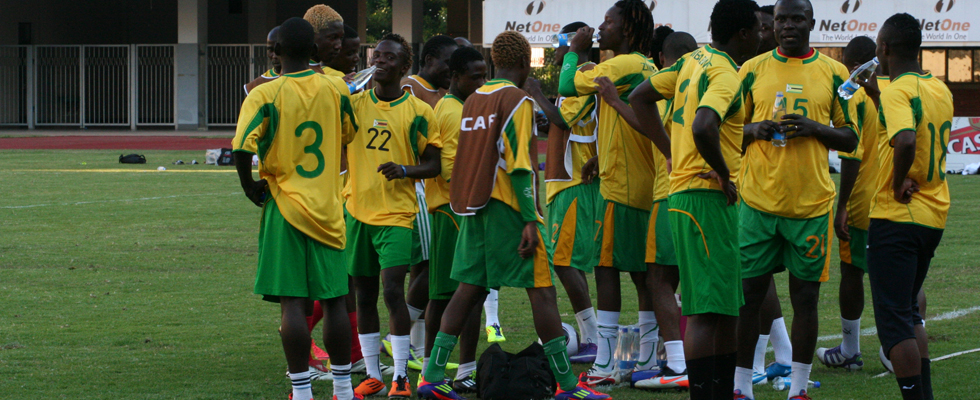 THE Warriors almost made a mess of their return to Rufaro Stadium yesterday, putting up a worrying performance although they eventually sailed through to the final qualifying round of the African Nations Championships (Chan) to set up another Battle of Zambezi against Zambia next week.
REPORT BY WELLINGTON TONI
Skipper Masimba Mambare scored in the 83rd minute while Mauritius' Winny Calampe equalised in the 90th minute to give the Warriors a 4-1 aggregate win after a 3-0 triumph away last Sunday.
But it was the manner in which the Warriors went about duty yesterday as they failed to convert the numerous chances that fell their way, especially in the last stages of the first half that is cause for concern.
Double hero in the first leg Nelson Maziwisa was a pale shadow of himself failing to get a ball on target, at least for the opposition keeper to save while Charles Sibanda, who was also outstanding in Mauritius, lasted only 45 minutes.
The most enterprising player of the afternoon was Milton Ncube, but he was pulled out for Sadiki as the Warriors tried to inject some pace on the left wing where there seemed to be space to attack.
Tawanda Muparati also came in in the second half and seemed lost, until he benefited from a Sadiki run on the left and set up Mambare for the Warriors' only goal, seven minutes from time.
And they thought they now had it all wrapped up and they chose to entertain the otherwise worried crowd until Mauritius struck at the dearth. It was a looping ball sent to the far post that goalkeeper Tafadzwa Dube tried to keep out, but to no avail.
Ian Gorowa, in his first match in charge of the Warriors at home as coach after taking over from Klaus Dieter Pagels two weeks ago, attributed the lucklustre performance to the pressure of playing at home.
"I am happy with the performance of the team, but playing at home has its own pressures," he told reporters at the end of the match.
Gorowa though will be impressed by the crowd that turned up for this homecoming match, about 10 000 fans that included Zanu PF national chairman Simon Khaya Moyo and newly elected Member of Parliament for Shurugwi North and former Premier Soccer League chairman Tapiwa Matangaidze.
Missing, perhaps, was Joseph Chinotimba, newly elected MP for Buhera South!
The Warriors' win sets up another epic battle against Zambia, who beat Botswana 2-0 to go through 3-1 on aggregate.
Zimbabwe and Zambia clashed in the final of the 2013 Cosafa Castle Cup on July 20 with Chipolopolo winning 2-0 at the Levy Mwanawasa Stadium in Ndola.
Zambia, bronze medalists at the first Chan tournament in Ivory Coast four years ago, were firm favourites to oust Botswana after forcing an away draw with 10 men.
But it took a side guided by 2012 Africa Cup of Nations-winning French coach Herve Renard 49 minutes to score in Ndola.
Festus Mbewe inflicted the damage, nodding a chip from defender Kondwani Mtonga past recalled Botswana goalkeeper Noah Maphosa.
Defender Obuile Nncenga was sent off, leaving the "Zebras" to pursue an equaliser a man short and their fate was sealed 12 minutes from time when Evans Kangwa netted.
In another match played on Saturday, Mozambique beat Namibia 5-4 on penalties after a 3-3 draw.
Mozambique now face Angola in a clash of Portuguese-speaking countries for a place at the January 11-February 1 tournament for home-based stars.
Namibia looked doomed after a three-goal first-leg hiding in Maputo, and a goalless first 45 minutes in Windhoek did nothing to alter that view.
Riaan Cloete broke the deadlock six minutes into the second half, volleying a Deon Hotto cross into the net and offering a glimmer of hope to the "Brave Warriors".
Mozambique, who edged Namibia 1-0 in the Cosafa Cup, were reduced to 10 men when striker Apson Manjate was shown a second yellow card followed by a red.
Namibia began to believe all was not lost and Roger Katjiteo hammered a loose ball into the net four minutes from time to stir a previously subdued crowd.
Katjiteo struck again two minutes into stoppage time, chasing a long pass and scoring with another fierce shot that sparked wild celebrations on the touchline and in the stands.
But there was no fairytale finish as the Mozambicans regained their composure to convert all five penalty kicks while Chris Katjiukua missed for the Namibians.