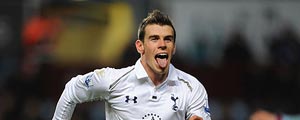 MADRID — Real Madrid president Florentino Perez has told ESPN that £85 million is too much money to spend on Gareth Bale, putting a move for the Tottenham forward in doubt.
ESPN
Bale is widely expected to put an end to one of the summer's longest-running transfer sagas by joining Madrid in the coming weeks, once Perez agrees what is likely to be a world-record fee with Spurs chairman Daniel Levy and owner Joe Lewis.
Reports in Spain have claimed that the Premier League club will not sell for less than £100 million, while Madrid have so far refused to raise their most recent offer of £85 million plus either Fabio Coentrao or Angel Di Maria.
Talking with ESPN Deportes TV, Perez appeared to send a message to Spurs that paying such an astronomical sum for Bale would be over the odds.
"We talk with lots of people and we will see what happens in all our negotiations, with this player (Bale) and with others," Perez said. "We do not usually talk about other players out of respect to the player, the club and the president, with whom I made a good friendship last season during the signing of Luka Modric.
"If I do not talk about names, I do not talk about money. [But] €100 million seems a lot to me, a lot for everything. I do not talk about players nor money because I should not and cannot, out of respect."
Perez also denied a recent Marca story that Cristiano Ronaldo had already agreed a new contract with Madrid, but said he expected the forward to soon sign an extension which would tie him to the club for the remainder of his career.
"We are all convinced that he is going to finish his sporting life at Real Madrid," he said.
"At the end of the summer we will try and sort out this subject. I believe this will happen, for sure, before the end of the month, or at the start of next month. We do not have such a great hurry, when there are good intentions. We will resolve it satisfactorily. At least that is my desire."