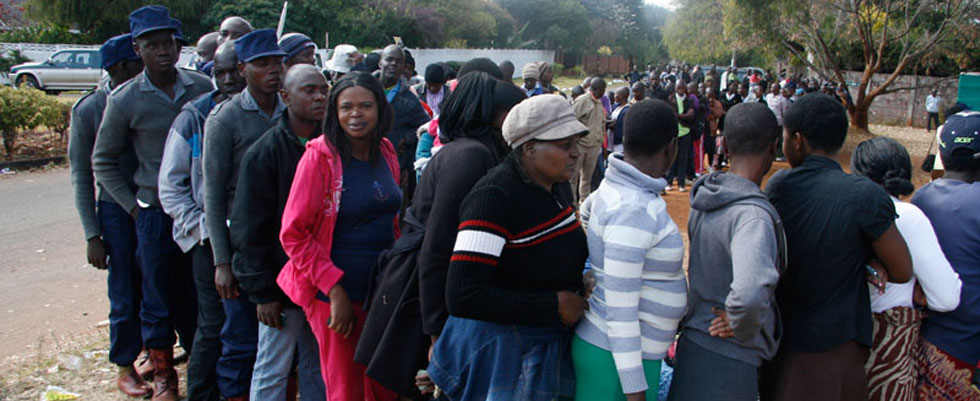 THE Zimbabwe Election Support Network (ZESN) yesterday claimed that 750 000 urban voters were disenfranchised after they were denied an opportunity to vote, putting the credibility of the final election results at stake.
Report by Staff Reporters
Addressing journalists in Harare, ZESN chairperson Solomon Zwana said urban voters had been "systematically disenfranchised" as many potential voters were turned away for various reasons, including anomalies on the voters' roll.
"Over 750 000 urban voters were missing on the voters' roll compared to rural voters. In contravention of the law, the final voters' roll was not made available in electronic format prior to election day. Thus there is no way to assess any bias on the final voters' roll," Zwana said.
"At 82% of urban polling stations, many potential voters were turned away and not permitted to vote for reasons which include names not appearing on the voters' roll and turning up at the wrong ward for voting. This is in sharp contrast to rural areas where only 38% of polling stations turned away many potential voters," Zwana said.
"These factors on their own fundamentally undermine the degree to which the results of the 2013 harmonised election can be considered to reflect the will of the Zimbabwean people. When compounded by the massive bias in the State media, the campaign of intimidation in rural areas, the lack of meaningful education, the rushed electoral process and the harassment of civil society left the credibility of these elections severely compromised."
In addition, Zwana said police officers were stationed inside polling stations, indicating that their presence could have intimidated some voters.
lAfrican Union Observer Mission head Olesegun Obasanjo told Mugabe yesterday that the elections were free, fair and credible. lThe Sadc Electoral Commission Forum (ECF) observer team admitted that the voters' roll was in shambles, but said that the elections were credible, free and fair.
The head of the 25-member observer team that observed the elections in the country's 9 600 districts, Notemba Tjipueja, who is also the chairperson of the Election Commission of Namibia, said that it was normal in any country not to have a perfect voters' roll.
"I would definitely indicate that elections were held in a credible manner. With regard to the future reforms, that would obviously take time for them to be implemented, but not withstanding that, the elections were held in a peaceful and credible manner," she said.
"We are, however, concerned by reports that many were disenfranchised, but pleased to note that the new Constitution gives Zec (Zimbabwe Electoral Commission) power to take over the voters' roll."
On their recommendations to Zec, the observer team said there was need to correct the voters' roll and its accuracy.
In a clear admission that Zec was not ready to conduct the elections, Tjipueja said in future elections huge amounts of excess ballot papers should be reduced to avoid confusion.
lThe Catholic Commission for Justice and Peace in Zimbabwe (CCJP) and the Inter-Regional Meeting of Bishops of Southern Africa said they recorded 47 incidents of election irregularities.
CCJP chairperson Alexio Muchabaiwa said although the environment remained peaceful up to the close of the polls, the church was concerned that a significant number of voters could not find their names on the voters' roll.
"For example, in Mutare 433 people were turned away and similar incidents were also reported in Gokwe and Hwange, as well as disruption and stoppage of the counting largely as a result of missing or misappropriated information, especially for the special votes ballot boxes," the CCJP said.
"By close of polls, CCJP had recorded 47 incidents with 13% representing intimidation or coercion near the polling station, 9% representing irregular or inconsistent vote counting, 4% representing observers denied access to polling stations and other cases involving polling stations that opened late."
The CCJP said there were also a lot of inconsistencies in serialisation of ballot booklets.
lYesterday, Britain reportedly expressed concern that Zimbabwe had not enacted important electoral reform before Wednesday's poll.
"We are also concerned by the late publication of the electoral roll," a spokesperson for the British Foreign Office told Reuters. "Any judgment on the credibility of elections will need to take these factors into account."