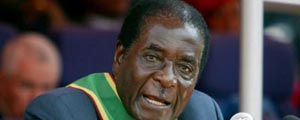 ONLY six Heads of State attended President Robert Mugabe's inauguration in Harare yesterday, out of the 40 that had been invited.
Report by Dumisani Sibanda,Assignments Editor
The sitting Heads of State who graced the occasion were Sadc Troika immediate past chairman Jakaya Kikwete of Tanzania, Armando Gubueza of Mozambique, Teodoro Obiang Nguema Mbasongo of Equatorial Guinea, Joseph Kabila of the Democratic Republic of Congo, Hifikepunye Pohamba of Namibia and Rajkeswur Purryag of Mauritius.
South African President Jacob Zuma, who was the Sadc-appointed facilitator, did not attend. He was represented by his deputy Kgalema Motlante, while Zambian President Michael Sata sent his Vice-President Guy Scott.
Malawi President Joyce Banda, who assumed the Sadc chairmanship last week, sent her deputy Khumbo Kachali.
Swaziland was represented by its Prime Minister Sibusiso Dlamini. Former presidents of Botswana Festus Mogae and his predecessor Sir Ketumile Masire and those of Zambia Kenneth Kaunda, South Africa's Thabo Mbeki and Namibia's Sam Nujoma graced the occasion. Also in attendance were Tanzania's former presidents Benjamin Mkapa and Ali Hassan Mwinyi.
President Mugabe said the invitations of guests, including Heads of State, had been left until late because there were issues to do with electoral petitions that had to be concluded first. He apologised for the short-notice invites and thanked those that had made it to the occasion saying it "attests to the deep affinities between you and ourselves".
lMeanwhile, MDC-T leader Morgan Tsvangirai boycotted Mugabe's inauguration saying the big bash was meant to cover up the "grand electoral theft".
Tsvangirai's spokesperson Luke Tamborinyika said the former Prime Minister still maintained that the "election was stolen".
"We are clear the election was stolen," he said. "The massive show, the grandeur that accompanied the inauguration is a massive attempt to cover up the grand electoral theft. He (Tsvangirai) is spending the day with his family at home in Highlands. We are not aware of an official invitation for him to attend the event, but not that it would have made any difference because he would still not have attended."
Tamborinyoka said it was ironic that some people who came to the helm of their countries when Mugabe was already president had left office and yesterday came to witness the Zimbabwean leader's inauguration to an eighth term.
"The attendance of Mwinyi and Mkapa who became presidents when Mugabe was already in power is a subtle message to Mugabe that he should join them," said Tamborinyoka.