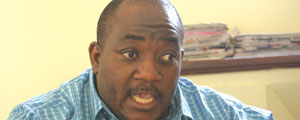 CIVIL servants' unions yesterday called on President Robert Mugabe to immediately implement the salary review that he pledged on Heroes' Day, saying they could not endure another four months on their present paltry salaries.
REPORT BY VENERANDA LANGA
Public Service Association executive secretary Emmanuel Tichareva said civil servants had been patient with government for too long and could wait any longer.
"We want it (as early as) yesterday because we have not had a salary rise for quite some time and four months is a long time to wait," said Tichareva in an interview with NewsDay.
"Normally we do not work on statements made at rallies. We do not doubt that Mugabe meant what he said, but this is going to be followed up and we will be making appointments with government soon to ensure it happens."
Progressive Teachers' Union of Zimbabwe secretary-general Raymond Majongwe said the issue of civil servants' salaries should not be delayed.
"We will not accept adjustments by the end of the year because we cannot endure another six months. We want that process expedited," Majongwe said.
"We are clear that we want a sober Minister of Public Service who is genuinely pro-poor to address these issues.
"The real battle has started and we want Mugabe to address these issues.
"We are not going to accept salaries announced at rallies or the politburo, but we want to begin salary negotiations with government immediately."
Zimbabwe Teachers' Association chief executive officer Sifiso Ndlovu said Mugabe's pledge showed he was prepared to address the matter.
"We do not doubt him, but if this does not happen we will have to hold government to account for this because it came voluntarily from their own mouths.
"We do not see how Mugabe can mislead the country on Heroes' Day saying he will satisfy the ideals of the people who died for this country," Ndlovu said.