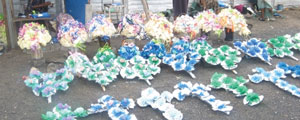 HARARE/JOHANNESBURG — Cynthia Ndlovu (30), a single mother employed as a cleaner at an up-market hotel in Johannesburg, South Africa, is too busy trying to save money for her family to worry about the possibility of dying far from her home in Bulawayo, Zimbabwe's second largest city.
IRIN
"I can't waste all my time thinking about my death. God will take care of me when that happens. The most important thing now is to save as much money from my job as possible so that I pay my son's school fees, feed him and send some to my parents back in Bulawayo," Ndlovu told IRIN.
In addition to the long hours Ndlovu works at the hotel, she sells food at Parktown bus station in central Johannesburg and does laundry as a way of supplementing her salary of less than $200 a month.
Many of her friends belong to burial societies which, in the event of their deaths, will cover the cost of their bodies being repatriated back to Zimbabwe as well as funeral expenses, but Ndlovu considers the R50 monthly dues such groups typically charge too much to part with.
"I have to save every cent I get from my regular and part-time jobs, otherwise life would be too difficult for me. The best way to avoid problems for your family when you die is to go back to Zimbabwe as soon as your health gets poor," Ndlovu said.
But death is not always preceded by illness, particularly for migrants living in Johannesburg, a city with high rates of violent crime. Stanley Moya (28) from Harare was attacked by muggers on his way home after work in the Johannesburg suburb of Berea. He was killed and his body was left in a nearby ditch, where it was discovered the following morning. More than a month later, his body remains in a Johannesburg mortuary.
Moya did not belong to a burial society and his friends do not know how to contact his relatives in Zimbabwe to notify them of his death. The young man had crossed into South Africa illegally and did not possess a passport. Even if his relatives could be found, Moya's lack of documentation would likely make it impossible to repatriate his body.
"Stanley might end up being buried here by the South African government and his parents and relatives are likely to go for years thinking that he is still alive. Many Zimbabweans here do not think it is important to prepare for their own death and this gives all sorts of problems," said Tichaona Chidziva, a bartender in Berea who knew Moya.
Innocent Makwiramiti, a Harare-based economist and former chief executive officer of the Zimbabwe National Chamber of Commerce, told IRIN that the millions of Zimbabweans who have fled their country's political and economic crisis since 2 000 face a daily struggle to survive, preventing many of them from preparing for death.
Without a contingency plan, relatives of deceased migrants face acute difficulties repatriating their bodies to Zimbabwe; they sometimes resort to illegal means, Makwiramiti said.
In early 2012, Gibson Mudhokwani* (70) a retired teacher living on a paltry pension in Harare, resorted to smuggling home the body of his daughter, who had worked as shop assistant in Pretoria before dying of an unknown illness. He lacked the minimum R10 000 (just over $900) necessary to repatriate her body legally.
"I had no money to process the papers and cover the transportation of the body, so we hid her body in (my neighbour's) truck and paid $20 at the border so that the vehicle would not be searched," Mudhokwani told IRIN.
He took his daughter's body to his rural home in Mhondoro, about 90km southeast of the capital, where she was buried without the burial order required by the law. With two sons working in Botswana, Mudhokwani has since joined a funeral scheme that, in the event of their deaths, would cover their repatriation and burial costs.
"I have advised my sons to send me $20 a month to pay for the funeral scheme," he said.
Not all Zimbabwean migrants leave these worries to relatives. Many living in South Africa have started their own burial societies, with members recruited from the same areas back home as a way of controlling transportation costs.
"You can die anytime and people have to dig into their pockets; my family can't manage that," said Dorcas Dube (54) a domestic worker in Johannesburg who has belonged to a burial society with about 200 members from her rural area near Zimbabwe's border with Botswana since 1999.
She pays annual dues of R200 a year ($20) and an additional R70 ($7) whenever another member dies. Should she die, the burial society would cover the approximately R14 000 ($1,395) cost of repatriating her body to her village and "a decent burial". Her family would receive an additional R3 500 ($349).
Members are divided into 17 groups and if someone in Dube's group dies, she is required to join a group of 11 fellow members who accompany the body home in a mini-bus hired by the undertaker, with the body travelling in an attached trailer. After journeying overnight and most of the next day, they assist the deceased's family with funeral preparations, attend the funeral itself and then make the long journey back to Johannesburg.
Kingdom Mpofu, spokesperson for Dube's burial society, has been a member for 22 of his 57 years. He views belonging to such a group as a social responsibility.
"If you don't belong to a burial society, you'll be a burden to your family. The sooner (you join) the better . . . to set an example to your children." Membership has practical as well as financial benefits. Not only does an undertaker organise transportation, the company also processes the necessary paperwork for repatriating the body. "You can organise transport yourself, but paperwork is a problem," said Mpofu. "You need a certificate from the undertaker and a death certificate. If you don't have that, you can't go through the border."
He added, "To bury someone (back home) is very important – so they can join their ancestors."
Several life insurance companies in Zimbabwe have also set up programmes to assist with the repatriation of bodies. Nyaradzo Funeral Assurance Company, one of the most well-known life insurance companies in Zimbabwe, has formed partnerships with funeral parlours in southern Africa and Europe, where Zimbabweans are found in significant numbers.
The parlours process all the required documents while Nyaradzo organises road or air transportation and covers the costs of burying the returning bodies.
"Our cash plans cater for all types of people, from the low-income groups to the rich, and we accept as little as $10 a month from contributors. We attend to up to five burials of people from outside Zimbabwe per week," said Phillip Mataranyika, the company's chief executive officer. * Not his real name