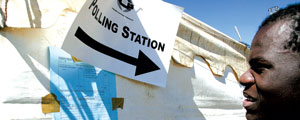 AN independent election monitoring watchdog, the Elections Resources Centre (ERC), has called on the Zimbabwe Electoral Commission (Zec) demanding a poll delay to prevent chaos and instability emanating from shambolic preparations.
REPORT BY STAFF REPORTERS
The ERC said the electoral body was unprepared to conduct a credible election, citing the special voting process that was characterised by chaos, particularly lack of ballot papers, resulting in thousands of police officers failing to cast their votes.
ERC said Zec's unpreparedness was a security threat that could "spawn instability in the country and reverse all the gains that Zimbabwe stands to benefit from the conduct of a free and fair election".
"If Zec goes ahead to press for a July 31 election when all signs point to the fact that it is ill-prepared to conduct a credible election, there is a likelihood that the agitation and chaos that obtained during the special voting process where police details almost turned riotous, will be replicated on a bigger scale on the actual polling day as eligible voters will not accept being denied the right the vote," ERC said in a statement yesterday titled Why Zec Must Seek Poll Postponement.
Zec said that it was ready to conduct the harmonised elections as long as funding was availed.
However, ERC said Zec's unpreparedness started showing a long time ago, citing the chaotic voter registration exercise and failure to release the voters' roll on time.
"Zec's inability to roll out processes that will lead to a free and fair election is in itself a violation of its constitutional mandate, which requires Zec to conduct free and fair elections.
"An incomprehensive voter registration exercise compounded by a contested voters' roll which remains shrouded in secrecy and worsened by the chaos which characterised the just-ended special voting exercise is indicative of the possibility of a dispute-riddled election," ERC noted.
Meanwhile, the Zimbabwe Election Support Network (Zesn), which observed the special voting process for uniformed forces on Sunday and Monday, said it noted that the Zec was unprepared for the vote. Zesn said there was urgent need for Zec to set up proper logistical provisions that ensured the smooth running of the impending harmonised elections.
The network said its observers had reported a litany of logistical challenges countrywide at all polling centres characterised by, among other things, late opening of polling stations, shortage of sensitive voting materials such as indelible ink, Zec stamps, approved voters' lists and ballot papers.
"Zesn notes that the process continues to be disorganised, an indication that Zec was unprepared to conduct the special voting process," reads the statement.
Zesn said at most polling stations in Masvingo, Seke, Macheke, Zvemukonde in Midlands province and Beitbridge, voting started late and proceeded into the night but many still failed to vote.
The MDC formations have also expressed fears of a chaotic July 31 election following the special voting exercise that saw police officers in some parts of the country almost rioting after failing to cast their ballots.
President Robert Mugabe has, however, declared that the July 31 election will never be postponed.