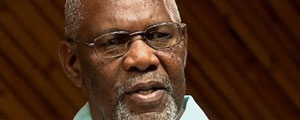 MDC-T treasurer-general Roy Bennett has revealed that his party was still negotiating with Zapu leader Dumiso Dabengwa to form a grand coalition to unseat Zanu PF in this week's polls.
Report by Victoria Mtomba
In an exclusive interview with NewsDay last Wednesday in Johannesburg, South Africa, Bennett said Zapu secretary-general Ralph Mguni and MDC-T's Elton Mangoma were spearheading the talks.
The coalition talks are reportedly taking place nearly three weeks after Zapu and the Welshman Ncube-led MDC forged their own southern region pact, while the MDC-T sealed a similar agreement with Mavambo/Kusile/Dawn and Zanu Ndonga in what has been dubbed the grand coalition of the northern region.
"We have had a very serious approach from the Zapu structures to disown Dabengwa. His own structures are disowning him now because they are totally in contrast to his view. It is not the view of the constituency nor the leadership structures of Zapu," Bennett said.
Mangoma confirmed the development in a telephone interview.
"There are Zapu people we are working with and they have disowned Dabengwa as he is doing his own thing. I am at a rally now and cannot give you more details," Mangoma said.
Contacted for comment, Mguni said: "There are people that have been trying to act as intermediaries and they have done a shoddy job out of it.
"The intermediaries on Tuesday (last week) said they had arranged for me to meet the MDC-T secretary-general (Tendai Biti) and when I turned up at Harvest House, he was not there. I was phoned and told he was tied up elsewhere. They approached us. We are open to discussions on a grand coalition as long as they are serious," said Mguni.
Mguni said Dabengwa had been briefed about his scheduled meeting with Biti, describing reports of a Zapu split as fictitious.
"That is absolute nonsense. We are one as Zapu."