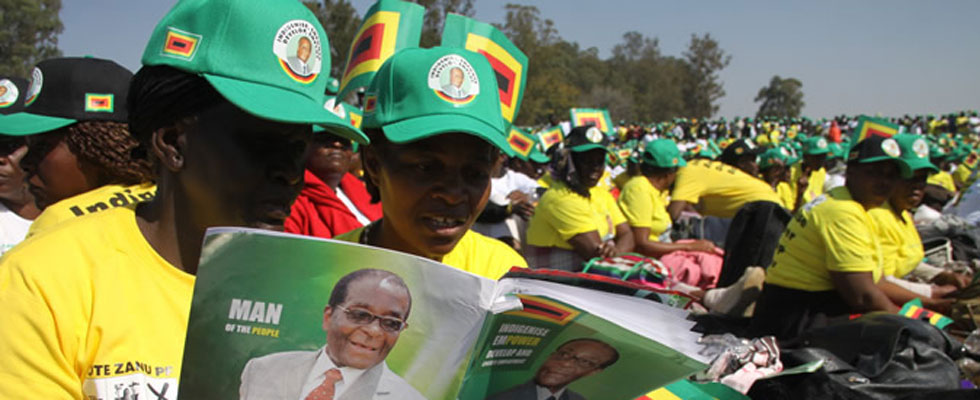 A SENIOR Zanu PF official from the party's Bulawayo provincial structures has reportedly been arrested for allegedly erasing President Robert Mugabe's face from party regalia, especially headgear, and reselling the caps for $2 each.
Nduduzo Tshuma
The revelations were made by Zanu PF politburo member Obert Mpofu at a campaign rally for Makokoba House of Assembly aspirant Tshinga Dube, in Nguboyenja on Sunday.
Mpofu, who was guest of honour at the rally, accused some senior party leaders of hoarding campaign regalia instead of distributing it.
"When I was on my way here, I heard that a member from here (Bulawayo) was arrested after being found with caps for the party campaign in his house," Mpofu said.
"That person was scrapping the President's face from the caps and reselling them for $2."
Party insiders identified the person who was being referred to as a member of the provincial youth executive, but the organ's chairperson, Mabutho Moyo, yesterday said he was not aware of the incident.
"The same way you heard about the matter, is the same way I heard about it," he said, referring to Mpofu's statement at the rally.
"I have not received any report so I will have to check with the provincial office to get accurate information."
Zanu PF provincial chairperson Callistus Ndlovu said he was not aware of the matter, before referring questions back to Mpofu.
"Why don't you ask Tshinga (Dube)? I do not know anything about that, I was not at that rally," he said.
When told that Mpofu had made the allegations, the provincial chairperson said: "Ask Mpofu if he knows about it and how he got to know about it."
Mpofu accused some senior party officials of being in the habit of diverting food aid donated by Mugabe and sharing it among themselves.