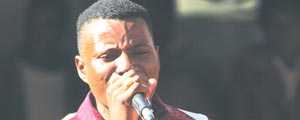 MASVINGO is set for an explosion night tonight with a new combination being tried out at Ritz Nite Club.
Report by Entertainment Reporter
Young musicians Peter Moyo and Tryson Chimbetu, who are currently scaling greater heights, perform at the joint tonight.
The Young Igwe, as Peter is known, recently released his debut album which has re-ignited his romance with his late father's fans.
Titled Mushonga Mukuru, the album has earned him confidence although it has evidence of his unconvincing voice.
All the same, it is not the vocals that showgoers hold in high regard, but the stage presence which has always been Utakataka Express' greatest strength. On the other hand, Tryson has also been doing fairly well after the release of his latest album Compass.
The young musician has been touted by many as the true heir to the Dendera throne although many find themselves split between him and his cousins Sulumani and Douglas.
Tonight for the Masvingo folks it is, however, not the case as he is trying to leave a mark.
The Dendera musician said he was thrilled to reunite with his Masvingo fans for the first time this year after a long time without visiting the city.
"My fans there (Masvingo) appreciate my music so much and I feel so proud to have another dance with them," said Tryson.
Peter has also promised a five-star performance.
"Masvingo fans are special to me and I am always deeply touched by the way they appreciate my music," said Moyo.
"They really know what we are capable of doing and we promise the best to our fans."
Young Ingwe's fans will be expecting him to belt out hit tracks like Konzi, Tutsotso, Mushonga Mukuru, Pasirino, Barika and Mwari Wenyasha among others form his father's rich collection.
Meanwhile, Sulu invades Matabeleland this weekend with a show at Kombami Lodge in Plumtree and another at Esigodini's Drive Inn.
The Sean Timba hitmaker's publicist Joe Nyamungoma said their fans should look forward to a memorable show.
"This is the first time to be at these venues and we are looking forward to great shows that will also extend our fan base in the region," said Nyamungoma.
He added that they were happy with the way promoters from different parts of the country were gaining confidence in their band.
"As Orchestra Dendera Kings, we are happy with the way promoters from all corners of Zimbabwe are gaining confidence in us which is encouraging to us as a company," he said.
Sulu won the hearts of many music lovers in Matabeleland early this year after he bagged three National Merit Awards (Nama) in Bulawayo. For Sulu, the tour could be the beginning of an adventurous journey as he has often been castigated by his fans for concentrating on Harare and a few other bigger urban centres.
Sulu said he would soon make plans to visit more small towns and rural areas.
"Of course Harare is where the activity normally is, but then there are also people in those smaller areas who want to see us," he said.