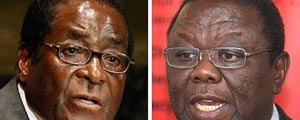 LONDON — In two weeks, Zimbabweans will go to the polls for the first time since a violent, disputed vote in 2008 which forced President Robert Mugabe to form a coalition with his main rival, Prime Minister Morgan Tsvangirai.
Reuters
Mugabe, seeking to extend his three-decade grip on power in the July 31 Presidential election, has called the battle against Tsvangirai and his MDC "the fight of our lives". However, Mugabe has urged his party to avoid violence, saying it was set to win cleanly.
Tsvangirai, on his third campaign to unseat Mugabe, has said nothing has been done to ensure a fairer vote and that Zanu PF was using bureaucratic obstacles and tricks to try to hold on to power.
In 2008, hundreds of Zimbabweans, mostly Tsvangirai supporters, were beaten and killed, prompting an exodus of refugees into neighbouring countries.
Reuters (R) spoke to three experts about the prospects for a peaceful general election, whether it would be a watershed moment for Zimbabwe and the major concerns in the run-up to the vote.
The experts were Chofamba Sithole, a UK-based journalist and commentator, Knox Chitiyo, associate fellow at Chatham House's Africa programme and Jeffrey Smith, advocacy officer at the Robert F Kennedy Centre for Justice and Human Rights. R: What indications are there that the elections will pass off more peacefully than in 2008?
Chofamba: Mugabe has called for peace consistently over the past several months and this message has been drummed religiously into the base by senior Zanu PF figures as well. As the party usually blamed for most of the electoral violence, it is significant that Zanu PF has stood down its most ardent and gung-ho supporters in this way – there's a sense among them that the cover of impunity and carte blanche previously available to them isn't quite available this time round. However, this is not to suggest that more formal instruments of violence such as war veterans and youth militia, police and the military will not be deployed in strategic areas, if not to unleash violence, then perhaps to brandish the threat of it as a way of intimidating non-compliant constituencies.
Chitiyo: Sadc and South Africa, as well as the African Union, have been very clear that they don't want a repeat of the 2008 violence. I think that's been a very important factor. The second thing is, of course, the very short timescale towards the elections, which probably has, ironically – for all the concerns about whether there'll be time to have a good election – actually helped in terms of making it a less violent process. People are tired of violence. They don't want a repeat of 2008. People simply want a clear result one way or another. They simply want a decisive winner.
Smith: The relative decrease in violence, as reported in major news outlets, can be explained in part by the fact that Mugabe and his allies know they do not have to rely on overt violence this time around; they merely need to harvest the fear of 2008–2009, as well as years past. Mugabe does not want to embody or represent a pariah state any longer; he and his party want to be brought back into the international fold and attract increased foreign investment. As such, there is a calculated attempt to construct this democratic façade; only when you start to peel back the layers of that façade do you begin to see serious concerns. For instance, there have been a number of reports from civic activists, particularly in rural areas, claiming that the police routinely reference Gukurahundi, attempting to co-opt voters or otherwise dissuade them from voting. Military leaders, deployed as "historians" in rural areas, are also demanding that citizens reveal their political preferences. Taken together, this prevailing climate of fear and intimidation, combined with impunity for past transgressions, has created a toxic environment in Zimbabwe — one that may not necessarily bode well for a genuinely credible and peaceful election. R: What are the major concerns ahead of the election?
Chofamba: The voters' roll is the biggest concern in my view. It has remained an inscrutable mystery to the MDCs and there's no clarity as to how many ineligible names still remain on it, with allegations made that it continues to enfranchise up to a million dead voters. In recent weeks, Tsvangirai has also complained about the role of the Israeli firm Nikuv International, which was contracted to work on the voters' roll. The firm's reputation from its involvement in elections in other countries on the continent – particularly Zambia – has not been altogether edifying. The public media also remains biased in favour of Zanu PF and has taken to broadcasting Mugabe's rallies live on TV and radio while denying the same to his rivals. Policing also remains a concern, especially where police deny the MDCs permission to hold campaign rallies citing lack of capacity. Legally, parties are merely required to notify police rather than seek permission to hold rallies.
Chitiyo: One of the key issues is has there been enough time to register voters by July 31? The Zimbabwe Electoral Commission worked flat out in terms of that, but I think it remains a concern as to whether all the people who are eligible to vote were registered. One big concern is if we have another runoff, if it's a very close poll and then we go into another runoff, that's when there'd be a lot of anxiety because of course, people would have memories of 2008.
Smith: There are several major concerns ahead of the election, including (1) a major lack of progress on reforms contained in the Global Political Agreement (GPA), which was meant to lay the necessary groundwork for an even political playing field; (2) increased intimidation, threats and in some cases, violence against civil society and (3) violations of the rights to freedom of expression and access to information. To my mind, the suppression of civil society and the human rights community represents a chronic problem in Zimbabwe that has critically undermined the electoral environment. Particularly since August of last year – when election-related rhetoric began to heat up – dozens of civil society organisations have been targeted by the police, punctuated by numerous office break-ins, arrests of key leadership figures and trumped-up criminal charges. Organisations involved in voter registration, mobilisation and education campaigns have unfortunately experienced the brunt of this onslaught. These ongoing incidents comprise a clear pattern of repression that should prompt outside observers to question the willingness of leaders in Zimbabwe to allow or otherwise ensure a free and fair election.
R: What progress has there been in enacting the reforms outlined in the GPA that brought together Zanu PF and MDC formations? Chofamba: The biggest reform yet has been the adoption of a new Constitution and the adoption of amendments to the electoral law to conform with it. It clarifies vote counting and tallying, potentially doing away with such delays in announcing results as experienced after the 2008 elections before the Presidential runoff was declared.
Chitiyo: The main thing which was outlined in the GPA and which was achieved was the new Constitution. I think there just wasn't the time for the other reforms (to be implemented). It was always going to be very tricky to try and get the reforms done because the parties were not really pulling together. There were massive disagreements particularly between Zanu PF and the MDCs on which reforms should be done and when. The major area for agreement was the need for a new Constitution, but beyond that in terms of other reforms – electoral reforms, security – there have been big disagreements.
Smith: There has been very little progress in enacting reforms outlined in the GPA, especially in regards to human rights and the rule of law. A primary reason for this outcome has been a lack of political will on the part of Zanu PF to implement aspects of the agreement that might limit its power. Most troubling is the fact that Zanu PF continues to command an unchecked monopoly of power and influence over the military, police and related security forces. The media landscape also remains heavily biased, with Zanu PF in control over the two main daily newspapers and all national broadcast media, which are subject to political interference and censorship. Amendments to highly repressive laws – including the infamous Access to Information and Protection of Privacy Act, the Public Order and Security Act ,the Criminal Law (Codification and Reform) Act and the Presidential Powers (Temporary Measures) Act – have also stalled, with little chance of reform before elections.
R: Tsvangirai recently formed a coalition with former Finance minister Simba Makoni and Zanu-Ndonga. The leader of a splinter MDC party, Welshman Ncube has also formed a coalition with Zapu. How do these developments alter projections of the electoral result?
Chofamba: The formation of a coalition between Ncube's MDC and Zapu means that they have galvanised their position in Matebeleland and may well eat into Tsvangirai's vote there. It is impossible for Tsvangirai to secure an outright victory without Matebeleland, which has rallied behind him almost unanimously since 2000.
Chitiyo: What is in a sense more interesting is that the grand coalition that had been mooted didn't happen. There had been talk of bringing all the opposition parties together and that didn't happen. Rather than seeing a grand pact, we've seen minor regional pacts. It likely will have an effect – certainly on the Parliamentary vote. The council elections, the Parliamentary elections are important, but at the end of the day what really matters is the Presidential election and it's really down to Mugabe versus Tsvangirai. If Mugabe wins the Presidential election, then it will not be an inclusive coalition government, it will be a Zanu PF government because certainly they don't want yet another coalition, whereas if Tsvangirai wins because of this election pact with Makoni and Zanu-Ndonga, he would need to form some kind of an inclusive government and he would also have to talk with Zanu PF because they're still very much embedded within the structures of power. It's very much an all or nothing particularly for Tsvangirai this time around because if he loses the Presidential election, people are not going to give him another chance I don't think — that's it. It would also be difficult for the MDC . . . The government would be Zanu PF and that would leave very little space for the MDC and what would happen to the MDC. So really there's all to play for.
Smith: Obviously, the lack of a cohesive coalition will strengthen the hand of Zanu PF, regardless of the country or political context. This no doubt holds true for Zimbabwe and plays directly into the hands of Mugabe. There is countrywide discontent with Zanu PF, but to this point, the various opposition factions have been unable – or perhaps unwilling – to identify or effectively build upon their overlapping interests and objectives to create a grand coalition. It is difficult to accurately forecast an ultimate victor, as recent polls suggest a tight race. I tend to think Zimbabwe will be faced with another Presidential runoff, much like last time. Regardless, it will be interesting to see the overall voter turnout, as Zimbabwe has been plagued by increasing voter apathy in recent elections.