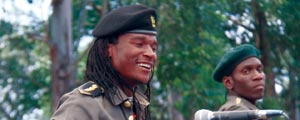 Harare Jazz 105 Jah Prayzah performs alongside Morgan and Tendai Dembo tonight at Jazz 105. Tomorrow Munya Mataruse takes over before House of Stone shuts down the weekend on Sunday.
City Sports Bar City Sports Bar tomorrow hosts another edition of the Beer Festival marshalled by DJs Storm and Joe Mentro among others.
Hwenje's Village Zoey Norleen Sifelani returns to Hwenje's Village tonight. Tomorrow New Generation Dance group entertains revellers at the same venue.
The Lounge The Lounge will tonight host an eviction party for Big Brother Africa: The Chase housemate, Munyaradzi 'Hakeem' Mandaza who was evicted from the house two weeks ago. Mix masters will play at the event.
New Life Nite Club New Life Nite Club tomorrow host dancer Beverly Sibanda as she continues her journey into the ghetto.
Ligi Tomorrow Jabavu Drive performs at Ligi Malbereign. Alexio performs at Ligi Robert Mugabe while Portifar Ligi Unit L.
Jongwe Nite Club Chinhoyi Jah Prayzah performs at Jongwe tomorrow evening. He is supported by Talking Guitars.
Ritz Nite Club Masvingo The Young Igwe, Peter Moyo tonight engages Tryson Chimbetu aka Sekeru Dhimba for a show at Ritz Nite Club in Masvingo.
Pick & Save Mutare Alick Macheso travels to Pick & Save in Mutare. Tomorrow he travels to Chipinge for a show at Dzonzayi Nite Club. On Sunday he performs at Zvineku Nite Club in Chisumbanje before rounding up his tour with a Monday show at Chademana in Jerera.
Kombami Lodge Plumtree Sulumani Chimbetu engages Ndolwane Sounds for a show at Kombami Lodge in Plumtree. Tomorrow the duo travels to Esigodini for a show at Drive Inn. On Sunday Sulu heads to Kwekwe for a show with Mathius Mhere at Tropicana Hotel.