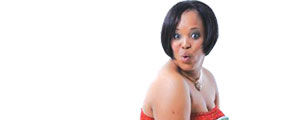 BIG Brother Africa 2013 (The Chase) comic relief and Big Brother Hot Room host, South Africa's Tumi Morake, will be part of Shoko Festival 2013 in September.
Report by Tinashe Sibanda
Morake is one of the most popular female stand-up comedians in South Africa and has performed at Women in Arts 2007, Arts Alive 2006-2007, Tshwane Comedy Festival and Just Bcoz Comedy Fest, to mention a few.
Running from September 17 to 22 in Harare, the annual local festival, a Magamba Network initiative will involve over 250 artistes from three continents.
"Tumi will be the headline act together with the SAMA and Channel O award-winning rapper Khuli Chana, also from South Africa, and Symbiz Sound, the Korean-German brothers producer duo and live act on the global bass scene from Berlin," said Shoko Festival media liaison officer Tafadzwa Sharaunga.
Chana rhymes in English and South African vernacular languages dominated by Setswana, this blend he calls Motswako music and is currently riding high on a wave of success as one of the biggest hip-hop acts on the continent.
Symbiz Sound's music is preceded from Dub-step inspired productions to a versatile, dance-floor oriented, new style sometimes labeled as "Future Dancehall".
They have produced songs for leading international artistes such as Vybez Kartel and have toured globally to Europe's Fusion Festival, Uprising Festival, Manchester, Barcelona, Russia and South America.
Other acts expected in this year's festival include Mzungu Kichaa (Tanzania), Kagiso Lediga (South Africa), Junior Brown, Clive Chigubhu, Hope Masike & The Monkey Nuts and Dhadza D (Zimbabwe).
Sharaunga said this year's theme, We the People, highlights how the festival has grown to involve many different genres and an inspiringly diverse Zimbabwean and international audience.
"The theme symbolises how Shoko becomes a powerful display of unity and togetherness of the capital city's many people: artistes, activists, dreamers, developers and media activists," said Shauranga.
He said the festival was a vibrant space hosting numerous activities from live concerts, comedy nights, talks and discussions to cutting-edge presentations on technology and new media.
Shauranga says despite the many challenges that the city and the country had gone through, the festival can bring people together in an inspiring space of culture, new media and positive activism moving the city and country forward.
The festival will feature live concerts, a comedy night, DJ parties, an international poetry slam, the Hub Unconference, photo exhibitions, workshops, debates, free concerts in the townships and much more.
In its third instalment, Shoko Festival 2013 has expanded upon last year's edition to include the Hub Unconference, a gathering on new media and expression.