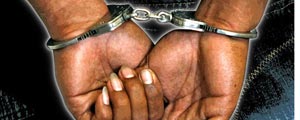 A 34–year–old Tanzanian woman was last week arrested at the Harare International Airport after she was found in possession of an illicit drug with a street value of $45 000 upon arrival from India.
SENIOR REPORTER
Mollel Jackline Richard, who stays in South Africa, was not asked to plead when she appeared before Harare magistrate Donald Ndirowei yesterday.
She was remanded in custody to July 27.
Richard was allegedly found in possession of 15kg of ephedrine which stimulates the heart and nervous system. It is often found in herbal and diet pills.
The State alleged that Richard arrived at Harare International Airport aboard an Emirates flight from India.
The alleged drug pusher produced her passport at the immigration desk at the airport where an alert officer tipped CID Drugs detectives that Richard had a visa for India which is a known source for illicit drugs.
The court heard that Richard was taken for interviewing and during a search conducted on her by detectives they recovered 30 khaki envelopes containing a whitish substance which was wrapped with fabric sheets inside a maroon bag.
Tests were conducted on the substance and revealed that it was ephedrine. The drug was then taken for recording and weighing.