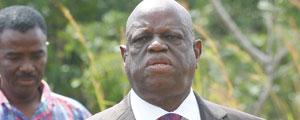 PICTURE THIS: The next Zimbabwe Parliamentarian — former Premier Soccer League chairman Tapiwa Matangaidze and Zimbabwe Football Trust chairman Tshinga Dube.
REPORT BY WELLINGTON TONI
Add former Dynamos secretary general Raymond Kazembe and spice it up with current Under-23 manager Chris Chitindi.
This could be the new Parliament, from next Wednesday, if everything goes according to plan, for these four gentlemen seeking to be voted for in the harmonised elections.
Once this happens, then calls for a separate sports ministry will grow even louder, what more with people like Matangaidze's calibre in the House of Assembly.
For now sport, especially the most popular sport football, has been a trailer due to lack of a sole sport ministry.
Instead, David Coltart has had to deal with education, sports, arts and culture in a heavy portfolio where his concentration has been to an extent education.
And who can blame him. We need an educated Zimbabwe and one million school kids without textbooks cannot be sacrificed for a mere 90 minutes of football for the underachieving Warriors.
First up is Dube, a long time Highlanders benefactor, chairman of diamond mining company Marange Resources, which also sponsors women's football and chief executive of the Zimbabwe Defence Industries. He faces MDC-T's Gorden Moyo in the Makokoba constituency in Bulawayo.
This weekend, Dube hosts the biggest musical contest in the City of Kings, which will feature South African musicians Freddy Gwala, Platform One and local stars in a last minute bid to woo the voting public. His mantra has been the revival of industries in Bulawayo and he recognises that art and sport play a vital role.
"The industry in Bulawayo is dead and we want work around the clock to revive and develop it. The people are there and there is no reason why we cannot find investors to help us. The arts, culture and sports play a vital role as well as a form of employment," Dube said.
Former PSL boss Matangaidze is eyeing the Shurugwi South constituency, under the Zanu PF banner, and has been on the campaign trail since the beginning of the year.
He has the support of Francis Nhema, who is eyeing Shurugwi North.
Yesterday, Matangaidze attended President Mugabe's star rally in Gweru.
Chitindi, who was the manager of the Warriors in the last edition of the African Nations Championships (Chan) in Sudan in 2011, is now the Under-23 manager and has made it no secret that he belongs to the house of the country's lawmakers.
Muzarabani South is the place he wants to be and this is the place he wants to develop, from the youths to the elderly, creating employment for all and sundry, he says.
Chitindi said yesterday: "There is no threat at all here from the opposition. Remember in 2008, Edward Raradza was elected unopposed and the opposition are just fielding candidates for the sake of it, otherwise it's a done deal.
"Our motto is indigenise and empower and that's what we want to do in this constituency as the people's party. We hope to be able to push for a sport ministry once in Parliament."
Kazembe is a Harare businessman, who rose to further prominence as secretary general of the country's most successful football club Dynamos and will be standing for Zanu PF in Mazowe West. He is the managing director of Leabridge Technologies, an indigenous ICT firm that was engaged by South African firms to provide advanced technology security services at the 2010 World Cup.