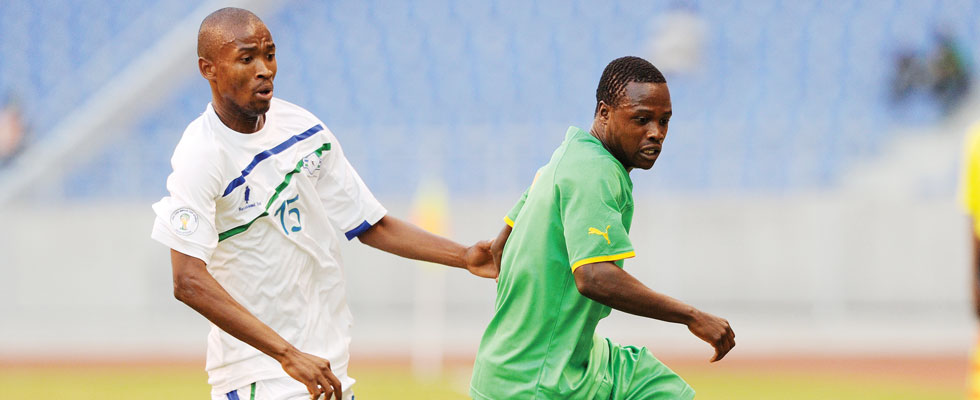 WARRIORS coach Klaus Dieter Pagels admitted on Wednesday night that his charges had played badly and lacked tactical discipline despite the 2-1 win over Lesotho in the semi-finals of the Cosafa Castle Cup regional football tournament at the Levy Mwanawasa Stadium.
REPORT BY WELLINGTON TONI IN KITWE, ZAMBIA
The Warriors will now play Zambia in the final tomorrow at the same venue after the hosts defeated South Africa 5-3 following a penalty shootout after their semi-final match on the same day had ended 0-0 after 120 minutes of play.
Chicken Inn gunslinger and the leading scorer in the Castle Lager Premier Soccer League (PSL) with 11 goals, Tendai Ndoro, scored twice in a 10-minute spell after the Warriors had fallen behind after just three minutes of play due to poor defending.
The national team was found wanting in all departments against a Lesotho side that seemed to struggle with fatigue as this was their fifth game in the tournament.
The Warriors struggled with fitness, a situation which had been bemoaned by assistant coach Lloyd Mutasa ahead of the match.
Said Pagels: "We played very badly, but at least we did manage to reach the final.
"The defence had problems and we need to sort this out going into the final whether against Zambia or South Africa. Those two countries have fitter players, very strong compared to us.
"The other problem is that I did not bring my best players here as I was limited to only two players from each team by the PSL. We are in the final now, we will go on and fight."
Hardlife Zvirekwi was sorely missed at right wingback as Eric Chipeta was slow in that position and lost his marker most of the time.
Lesotho coach Leslie Notsi noticed that and brought in Ramabele Lehlomela in the 37th minute to harass the Hwange defender and within 60 seconds, Chipeta had already received a yellow card as he tried to keep pace with the speedy winger.
In central defence, Prosper Matizanadzo could not measure up to the Lesotho strikers and his partner Felix Chindungwe constantly came under serious pressure as he tried to cover up for him.
Matizanadzo was a ball of nerves and if Zvirekwi does not recover by tomorrow, the Zimbabwe defence could be in trouble.
Ocean Mushure is just as dangerous as they come in defence — he seems to be more comfortable in attack — and the early goal the Warriors conceded was from his side as Chindungwe had already been beaten.
Augustine Mbara or Bruce Kangwa could have been better alternatives as they are both good man markers, keep possession and assist in attack only when needed.
In the double defensive link, Masimba Mambare, who does not play that position at his club Highlanders, was more on the attack, leaving Devon Chafa under pressure from the two attacking and mobile midfielders, Thapelo Tale and Moleko Katlego, that Lesotho deployed.
"I told Masimba not to go upfront, but he wanted to attack more," Pagels said.
Upfront, Ronald Chitiyo linked up well with Ndoro from the right wing, but Silas Songani was on holiday on the other.
When Pagels could easily have used Ali Sadiki on that left link, he opted for Nicholas Alifandika, who had just returned from injury and had missed the Malawi match, and later on Last Chibwiro for Charles Sibanda.
With such tactical awareness lacking, it meant Ndoro was starved of balls and often had to come down in midfield and that wore him out.
Lesotho coach Notsi refused to blame fatigue for his team's loss.
"Yes, you can say fatigue, but no, we wasted many chances after going ahead early. This is a game of football and we have to move from here," Notsi said.
He believes the Warriors can still surprise the hosts in the final.
"There is a high possibility. This will be their (Warriors) third game and their game is on the up, so anything is possible in football. Look at us, no one gave us a chance here, but we reached the semi-finals,"Notsi said.