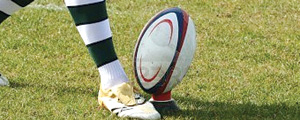 A POTENTIAL thriller is on the cards this weekend as Old Miltonians (OMs) will be out for revenge when they host Gweru Sports Club (GSC) in a Lion Lager National Rugby League match at Hartsfield Rugby Grounds.
Report by Sports Reporter
The Midlands-based outfit recorded a 14-3 win over OMs in the first half of the season at Gweru Sports Club in a match where GSC's fullback Kilvan Magunje was in a scintillating form.
Magunje planted two tries, one which he converted with the other being converted by fly-half Denver Chidhindi, while OMs got a consolation through the boot of George Savada who converted a penalty.
OMs will be looking to recover from last week's 38-5 loss to Old Georgians in Harare which saw the Bulawayo side drop to seventh position on the log with 12 points.
OMs coach Theo Weale said his charges will be going all out for maximum points in their clash against Gweru.
"We have put in a lot effort in our training sessions and the players understand that we have to win as well as get the bonus points from this weekend's game. We will be playing at home so this will work to our advantage," Weale said.
OMs are likely to be missing the services of Nelson Madida and Jason Mackay who are nursing injuries, while Victor Chiwara, Tawanda Mora, Sandile Lupwanya, Tichaona Charumbira and Emmanuel Manongorero will be the game breakers for Weale.
GSC coach Jacob Mapfungautsi said that his side will be looking to complete a double over OMs in this weekend's clash.
"We are taking the game against OMs very seriously as we are aware that they will be looking for a win. We will make some positional changes to the side that played against Warriors last week and take the game to OMs. We have to win all our remaining games in order to advance to the semi finals," Mapfungautsi said.
GSC are on sixth position on the log standings with 13 points having recorded two wins so far in their campaign. This will be GSC's second trip to Bulawayo in just two weeks after the side traveled to play Matabeleland Warriors last week were they went down by a one point margin as the home team won 26-25 at Hartsfield ground.
In other matches that will be played at the weekend, winless Zvishavane Bulls travel to Bulawayo to take on Western Panthers while a high profile match between Harare giants Harare Sports Club and Old Georgians is expected to produce fireworks in the capital.
Matabeleland Warriors have a tough assignment on against log leaders Old Hararians.