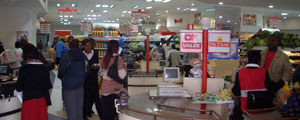 ZIMBABWE Stock Exchange (ZSE)-listed retail group OK Zimbabwe Limited has recorded a 5,1% increase in revenue to $123,1 million for the three months ending June 30, 2013, driven by cost-cutting measures and branch network expansion.
Report by Tarisai Mandizha
Speaking at the company annual general meeting on Friday, OK Zimbabwe chief executive officer Willard Zireva said the growth in turnover was lower as it had taken into account a gross domestic product (GDP) growth rate of 5%.
"This was slightly below our rather aggressive budget which took into account anticipated national GDP growth of 5%. It is generally accepted that the country may actually have experienced zero growth or deflation during the period," Zireva said.
Zireva said OK Mart's growth was slightly below the company average during the period under review due to lower liquor sales.
The OK Zimbabwe boss said gross margin for the same period maintained the same level as in the comparative period last year.
"Management continues to improve the margin through better sourcing," Zireva said.
Overheads were down 10% compared with the same period last year. "Profit growth for the quarter is in line with sales growth, but this should improve as we go forward with all the initiatives which are in place or being worked on," Zireva said.
He said the recently announced arrangement with South African company Kawena (Private) Limited would help in bringing remittances into the formal sector.
Under the deal, Zimbabweans in South Africa can purchase goods for friends and relatives back home.
"The objective is to tap into the Diaspora Zimbabweans including the unbanked who have to support their relatives at home and this brings these remittances into the formal sector and helps in reducing the country's balance of payments deficit as no forex goes out of Zimbabwe with products paid for in South Africa and received in Zimbabwe," Zireva said.
He said the company had also entered into a distributorship arrangement with blanket manufacturer, Aranda, from South Africa, adding that this would help grow the group's revenue base.
Zireva said refurbishments of outlets and other capital expenditure programmes would continue with funding coming from internal resources. He said the company had opened two new outlets in the first quarter, Wynne Street and at Chitungwiza Town centre.
Refurbishments are planned for OK Waterfalls, OK Bindura, OK Houghton Park, OK Gweru and OK Mutare.
Construction work of a new branch in Hwange, he said, was in progress amid expectation that the work would be completed by the end of September.