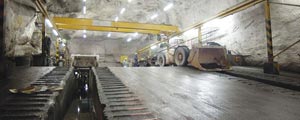 A UNIT of Australian Stock Exchange-listed Aquarius Platinum is engaging local authorities over the company's indigenisation and empowerment amid indications that negotiations could soon be finalised, a senior executive has said.
Kudzai Kuwaza
Mimosa executive chairman Winston Chitando recently told delegates attending the just ended Institute of Chartered Accountant of Zimbabwe 95th anniversary congress in Victoria Falls that the platinum miner was currently in talks with the Ministry of Youth Development, Indigenisation and Empowerment to map out a compliance plan.
Under the country's indigenisation and empowerment laws, foreign-owned companies operating in the country should sell 51% stakes to locals.
". . . We are at an advanced stage of coming up with a modus operandi in complying the indigenisation policy . . . I don't think it is fair on my stakeholders to issue statement of a public nature which could possibly jeopardise negotiations," Chitando said.
Under the agreement reached late last year, Mimosa will sell 51% ownership to indigenous Zimbabwean groups for $550 million. This has been calculated at an "agreed" market value of $1,078 billion for the Mimosa Mine.
Mimosa agreed to provide funding for this through a vendor-financed loan vehicle as part of efforts to facilitate the smooth conclusion of the transaction over a period of 10 years.
The company's plan showed that a 10% shareholding was given to the Zvishavane Community Share Ownership Trust held by communities in the area.
Another 10% will be ceded to the Mimosa Employee Share Ownership Trust.
The company will also give up 31% of its shareholding to the National Indigenisation and Economic Empowerment Fund.
Chitando said the major problems facing the mining sector was the inadequate supply of power, policy inconsistencies, the slow rate at which some mining companies were complying with the indigenisation laws and the exorbitant charges being for Environmental Impact Assesment by the Environmental Management Agency.
Chitando said the mineral development policy was still work in progress with engagements at the Chamber of Mines level to come up with the policy.
He said it was 'absolutely critical" to come up with the policy given the unique characteristics of some of the minerals the country has. Already, Zimplats, the country's largest platinum miner has signed a term sheet where it agreed to sell 51% to locals at a cost of nearly $1 billion.