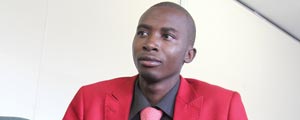 GOSPEL musician Mathias Mhere has hit back at Zimbabwe Amalgamated Housing Association (Zaha) director Killer Zivhu had lied that he was double booked after he performed at the Harare Gardens.
Report by staff Reporter
This came after Zivhu claimed he had engaged Mhere on time for a show in Chiredzi, but was surprised to hear "that he had another show on that same day" in Harare.
Mhere is a Zaha Ambassador.
In a letter to Zivhu from Mhere's lawyers Mushangwe and Company Legal Practitioners dated July 23, the musician denied double booking as alleged by Zivhu.
Part of the letter read: "Our client has been taken aback by the comments attributed to you which comments are untruthful and a misrepresentation of the truth.
"As you are aware, Clause 2:10 of the memorandum of understanding signed between our clients and Zaha provides as follows: 'To enable the preparation of the charity events, the host shall furnish the Ambassador with notice of date, time and venue at least one month before the event'".
The letter also trashed Zivhu's claims that Mhere "had been paid in full for the show".
"This is a falsehood. Our client maintains that he did not receive any payment for that show as he emphatically emphasised that he had a prior engagement and could therefore not avail himself," Mhere's lawyers wrote.
" . . . Whilst our client earns a living through music he is, however, a Christian and upholds Christian principles. He is serious about his religion. The article has maligned his reputation as he is very professional when it comes to the holding of shows . . . "
The lawyers also cited an earlier commitment that Mhere had cancelled a show in Bulawayo to cater for a Zaha engagement after he had been informed just four days before the event scheduled for June 15 in Masvingo.
The letter regarded Zivhu's actions as poor organisation and pointed out that Mhere wanted him to apologise for "misconduct".