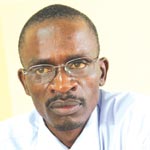 AWARD — WINNING NewsDay Assistant Editor Wisdom Mdzungairi is among 20 journalists shortlisted as finalists for the $1 million Africa Media Initiative Challenge, a programme encouraging innovative, multi-media storytelling aimed at improving the health and rosperity of Africans.
Report by Techmoran.com/Staff Reporter
Apart from the Bill & Melinda Gates Foundation, the programme also has support from the African Development Bank and the Alliance for a Green Revolution in Africa (Agra).
Yesterday, Mdzungairi said: "I am excited to have been shortlisted as part of a crop of journalists eager to improve the welfare of African communities. This we can do by tackling critical subjects such as the environment, land and food-related matters which are critical to Africa.
For me, it is not so much about money, but more to do with improving the quality of content covered by journalists and their media outlets, particularly as it relates to content about Africa's development."
African Media Initiative (AMI) Story Challenge director Joseph Warungu said: "We are thrilled that we received so many fine ideas from journalists who want to tackle agriculture and food-related issues critical to their communities and the continent."
The 20 finalists are set to attend a Story Camp in Naivasha, Kenya, next month to refine their ideas and learn digital and data journalism tools to improve their work and engage the public before an international panel of editors and media experts picks the competition winners.
In all, 315 entries from across the continent were screened by a technical review panel that evaluated which ideas have the best potential to become top-quality stories on agriculture and food security, the first of five themed categories covered by the challenge.
The Story Challenge is an initiative of the AMI and the International Centre for Journalists.