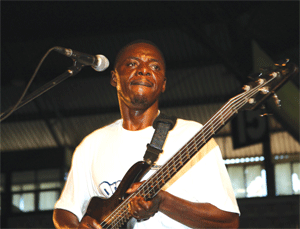 SUNGURA musician Alick Macheso has recovered from an injury that left his left leg plastered.
Tawanda Marwizi
Macheso, who was injured about a month ago in Guruve, appeared on stage at Pamuzinda Highway Escape without crutches.
Though he performed in front of a handful crowd, the musician showed excitement over his recovery.
"I was having sleepless nights because of this leg and even my family was getting worried," said Macheso.
He added that for almost a month he was in pain and could not go to their practice sessions at Aquatic Complex in Chitungwiza.
Though he was happy that he had recovered from the injury, Macheso failed to attract the huge crowds at the show.
Pamuzinda Highway Escape has become one of his favourite home grounds and he has been enjoying huge crowds at the venue.
Very few people graced the show with some walking out of the venue in protest at girls who frequently visited the musician on stage as he played.
Dancer Selemani Mpochi aka Majuice was not on duty following the loss of his child Yusuf on Wednesday night.
Macheso observed a minute of silence in honouring mbira songstress Chiwoniso Mararire who died on Wednesday.
He described the late musician as a woman who stood up by her values in taking the music industry far.
"It's only that we have no power to decide. It's God's case, but to me she was a woman who was talented and was destined for greatness, but she is gone," an emotional Macheso said.
He added that he once shared stage with her at Jazz 105 and people loved it.
Meanwhile, Zimbabwe Red Cross Society (ZRCS) youth advocate Tryson Chimbetu gave his fans real value for their money following a well-polished act at Destiny Night Club in Westlea.
The show which was graced by officials from the ZRCS was attended by hundreds of people.
"It was the reopening of this place and we are happy that Tryson has done the job well," said one of the managers at the venue.
The musician manager's Munyaradzi Motsi said they were happy to be receiving overwhelming support from their fans.
"It is so encouraging to see such crowds and we are happy that promoters are showing confidence in us," said Motsi.