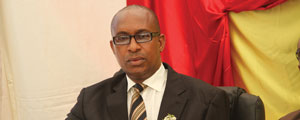 DEPUTY Justice and Legal Affairs minister Obert Gutu yesterday cited logistical challenges and the high security nature of the prison environment as the main reason why prisoners will not be accorded the right to participate in the forthcoming harmonised elections.
REPORT BY VENERANDA LANGA
"The reason why prisoners are not voting has nothing to do with taking away their rights to vote, but the Zimbabwe Electoral Commission (Zec) did not have logistics in place to have incarcerated people being able to cast their votes given that the date of the elections had also been proclaimed haphazardly by President Robert Mugabe," Gutu told NewsDay yesterday.
"Zec needed to work with the Ministry of Justice to ensure we give relevant stakeholders access to prisons to do voter registration, voter education, as well as prison access by political parties to do their campaigns in prison," he said.
Recently, Zec chairperson Justice Rita Makarau announced that prisoners will not take place in this year's elections, but did not give reasons.
Gutu added that certain prisoners with sentences of six months and less were entitled to vote, but Zec has not provided logistics to facilitate the process in time for this year's polls.
"Prisons are very high security places and given that political parties will also have to campaign there, in those few days it was going to be difficult to plan logistics of how each party meets its supporters in the 47 prisons without creating a situation whereby prisoners ended up fighting along political party lines," he said.
The minister said in the past elections, Zimbabwean prisoners were not allowed to take part in elections because the Lancaster House Constitution did not allow incarcerated people the right to vote. He, however, said in most advanced democracies and countries like Mexico and the Phillipines prisoners had a right to vote. "In those countries politicians are given access to go and campaign in prison upon prior arrangement to ensure there is security. Those are the things that have to be done for one to eliminate issues of political clashes in prisons," Gutu said.
He said it was impossible during the remaining nine days for Zec and the Ministry of Justice to provide resources for prisoners to vote.