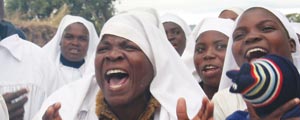 HARARE magistrate Noel Mupeiwa on Tuesday heard that the Noah Taguta-led Johane Marange Apostolic Church bought a stolen motor vehicle from a suspected city conman at a cost of $205 000.
REPORT BY CHARLES LAITON
The suspect, Innocent Gumbura, has since been charged with theft of a motor vehicle – a Toyota Sequiera.
The court heard that the church bought the vehicle in July last year.
Prosecutor Michael Reza presented that on a date unknown to the State, but in July last year, the vehicle owner, Omega Chatyoka, left her car in Abisha Svotwa's custody for safekeeping while she went to America on business.
During the same period, Gumbura, who is Chatyoka's relative and was staying at her house, took advantage of her absence and lied to Svotwa that she (Chatyoka) had authorised him to collect the said vehicle and sell it on her behalf.
On December 24, Chatyoka returned to Zimbabwe and discovered that her vehicle had been stolen and she reported the matter to the police.
Upon arrest, Gumbura allegedly indicated he had sold the car to a Congolese national, but on April 29 this year, Chatyoka spotted the vehicle being driven along Samora Machel Avenue heading towards Mutare. She reported the matter to the police, leading to the recovery of the car from David Sewera, a member of Johanne Marange Apostolic Church.
Gumbura denied the charge, but was remanded to August 6 for trial continuation.
In his defence, Gumbura told the court that Chatyoka was not the owner of the vehicle.
He further said even if she was, he (Gumbura) was authorised to sell the vehicle by Chatyoka through her daughter.
Gumbura alleged in July last year Chatyoka was arrested in America and she telephoned advising him to sell the vehicle and remit the money to her so she could finance her legal representation, an assertion Chatyoka dismissed as false.