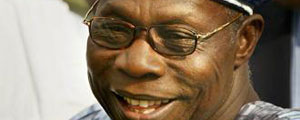 ZIMBABWE is reportedly trying to block former Nigerian President Olusegun Obasanjo from observing the country's July 31 harmonised elections, it has been learnt.
WONAI MASVINGISE
Obasanjo, who was reportedly expected to jet into the country yesterday as the African Union (AU) short-term observer mission leader, was said to have indefinitely postponed his arrival amid diplomatic shuttling between the AU and the government over the matter.
According to top AU officials, the former Nigerian leader is expected to lead a high-powered delegation to observe next week's elections in Zimbabwe, but government was reportedly throwing "spanners in the works".
Although details were still sketchy, AU Commission chairperson Nkosazana Dlamini-Zuma yesterday hinted Obasanjo would only be allowed to Harare if he was invited by the government But, Foreign Affairs secretary Joey Bimha said Zimbabwe had invited the AU and its observers presumably including Obasanjo, adding the country did not invite individuals.
"We invited the AU. We do not invite individuals. We have invited the AU and members of its observer team. A leader of the observer team is chosen by the AU and not by us," Bimha said.
Addressing journalists on arrival at Harare International Airport, Dlamini-Zuma said Obasanjo would only come into the country if invited by government.
"I think he will come, if he is allowed he will come. They (the government) allowed me to come. The government is obviously hosting us. There is no other meaning to what we have said," she said.
On election preparations, Dlamini-Zuma said initial reports had been positive.
The AU observer team has 70 members, 10 of which have been in the country since last month.
"We are here as the African Union Commission. As you know, our team has been here for quite sometime now and our commissioner for political affairs (Aisha Abdullahi) arrived yesterday (Tuesday). We are here just to talk to a number of people around the elections, the electoral commission (and) candidates just to see how things are before the actual election," she said.
"We are getting reports from those who arrived earlier. For now it's all good, the reports that we are getting are all positive. We have no reason to be concerned, but we have also come to just see for ourselves."
Relations between President Robert Mugabe and Obasanjo chilled after Mugabe was suspended from the Commonwealth of Nations in 2002. This came about after the ex-Nigerian leader along with former South Africa President Thabo Mbeki and Australian Prime Minister John Howard recommended Zimbabwe's expulsion from the grouping of former British colonies over human rights violations accompanying farm invasions and elections.