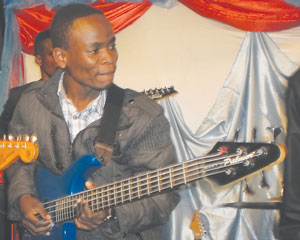 RISING sungura musician Romeo Gasa is set to release his fourth album this week.
Report by Entertainment Reporter
Titled Pin Code the album is expected to intensify the sungura battle that is currently under way following the recent launch of an album by ex-Alick Macheso band members Extra Kwazvose.
Nicknamed the Rebels, the new outfit is made up of Franco Slomo Dhaka, Noel Nyazanda, Obert Gomba and Jonasi Kasamba.
The group recently launched their debut album Ndizvo Zviripo, which has been making waves on the local scene.
Peter Moyo on the other hand looks like he has found the right combination for the revival of his father's Utakataka Express outfit with the release of his album Mushonga Mukuru.
For the fans, whoever is the eventual winner has to beat Macheso.
Gasa, Simon Mutambi and a handful of others are regarded as Macheso's fierce competitors particularly because of their exceptional bass guitar skills.
But Gasa believes music was not about competing against Macheso.
"People may say what they want about Macheso, but to me he is the best sungura artiste so far," he said.
"I think it is wrong for people to judge any musician against Macheso because this is not a competition."
Gasa said all the groundwork has been done and that fans should expect his release this week.
"Most stages have been covered and the album is taking shape. We are now finalising some of the songs and we are confident we have put enough effort to give our fans an excellent product," Gasa said.
He said some of the songs on the upcoming album included Amai Havarohwe, Ngwarirai, Bheki, Mandinyanyira, Rudo Chii? Rinohwarara and Simbi Hombe.
Simbi Hombe as the musician is affectionately known, added that he would be offering a completely new package to his fans.
Gasa rose to fame in 2009 when he won the Chibuku Road to Fame. He was blocked by Alick Macheso after he stole the hearts of many at a gala in Gokwe last year.