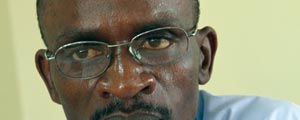 A CONTRARIAN is a person who takes up a contrary position, especially a position that is opposed to that of the majority, regardless of how unpopular it may be.
View Point with Wisdom Mdzungairi
It was only last week that I was reminded that I had taken that path. The reason being that I wrote about "Secrets of Zim's tourism success".
According to one particular reader and tourism stakeholder, I may have been paid to come up with the instalment about Zimbabwe's wildlife-based tourism product.
What an absurd opinion. I thought Zimbabwe was richly blessed by one of the Seven Wonders of the World — the country's top tourism spot — Victoria Falls, and 11 wildlife parks, botanical gardens and recreational facilities.
What is more is that 16% of the country's land is under wildlife. Political differences should not be allowed to take precedence over what is good. Nevertheless, even under the current political scenarios — the tourism product has remained intact in some areas.
Actually, our neighbours South Africa, Zambia and Botswana have immensely benefited from Zimbabwe's political crisis urging Western visitors to come to South Africa, Botswana, Zambia and see the Victoria Falls.
What a strategy! Indeed even though the Victoria Falls is shared between Zimbabwe and Zambia, it is more visible from the Zimbabwean side.
In my opinion, it is something that any genuine person cannot ignore. I am vindicated for Zimbabwe and Zambia will from August 24-29 host the United Nations World Tourism Organisation 20th general assembly.
But, some among us believe those successes must not be mentioned for now, as they queried: — What country are you talking about? The tourist industry is currently a pathetic shadow of itself.
Wonderful innovations that made a real difference in the 1990s —such as Zimhost and the funding of vibrant publicity associations — are now a thing of the past.
In the last 13 years, the Zimbabwe Tourism Authority (ZTA) has reportedly swallowed huge amounts of money on lavish parties for themselves and their staff whilst harassing operators around the country. In recent years, ZTA regularly threatened those few survivors of our "tourism holocaust" with actual closure.
It is true, the current state of hotels, lodges, camp sites and Zimbabwe Parks and Wildlife Management Authority (Zimparks) facilities in some areas reflects desperation rather than success.
But, is it wrong to think that is just because of "election worries" given the country has been in perpetual election mode since 2008? If it is true that private individuals are called upon to assist Zimparks with items ranging from fixing pumps to transporting staff, then more needs to be done. This debate for another day!
After long debate, research and discussions, there is now less scepticism over the reality of climate change and continuous discussion on how it will impact the earth`s system and the world population and what can be done about it.
Global warming is just a "sound-bite" and does not accurately reflect the reality of climate change. It involves a general trend of temperature increase, but also entails fundamental changes in weather patterns, including change in the persistence and magnitude of sea water events, hurricanes, floods, and droughts, as well as fundamental changes in everyday rainfall patterns.
So as far as the interaction between climate change and agriculture is concerned, despite some projected increase in photosynthesis brought about by the increased concentrations in carbon dioxide, the change in temperature will have a far greater detrimental effects resulting in significant reduction in crop yield; devastating crop losses and increased incidence of diseases of plants, animals and humans.
These effects have clearly materialised in the country in general, in particular Masvingo and Matabeleland provinces.
Climate change is more likely to impact on agriculture genetic resources through impacts on the distributions of crops and wildlife resulting in serious loss of reserve biodiversity for future use.
More than those farmers may drop traditional land no longer adapted to the local climate, resulting in further genetic erosion. Other agriculture-related losses include loss of life or disability; loss of arable and pasture lands; loss of assets in terms of real state; loss of jobs; and loss of sustainable food supply chain.
However, the most troubling finding is that climate change impacts are highly localised and different responses can occur within a few kilometres. Adaptation to climate change cannot, therefore, be regional and must be made locally specific by using farmers' knowledge of the past to adapt to the future.
A key research theme must be development of risk avoidance strategies which are still difficult. A core research area is the development to improve germ plasmas of plants and animals whether wild or domesticated. This means that crops and livestock with good tolerance to heat stress should be identified and promoted.
It is our hope that government could treat climate change as a corporate-wide strategic issue affecting all functions at all levels and formalise that in a policy statement; assess how a warming climate will alter extreme weather events, disasters, vectors, political risk and infrastructure resilience; develop catastrophic models to understand the probable effect of climate change and advocate for the reduction of gas emission.