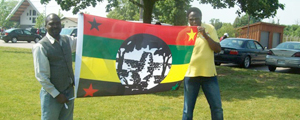 ZAPU officials who were implicated in the newly formed Zapu faction that passed a vote-of-no-confidence on Dumiso Dabengwa's leadership in Gweru last week have denied being involved in the alleged split.
Blondie Ndebele
A faction within the party was reported to have formed parallel structures citing irreconcilable differences over the manner the party was being run by Dabengwa.
Former Bulawayo provincial chairman Ray Ncube, who was expelled from the party last year after being accused of creating parallel party structures last year was said to be the president of the new faction.
However, speaking at a fairly attended Zapu rally at Stanley Square over the weekend, Ncube said he was never involved in any new faction of Zapu.
"I heard that there is a new Zapu that was formed in Gweru and I don't know anything about it," he said.
"I have been sitting at home ever since the leadership asked me to step down. I will work for this party, campaigning for the party's candidates and I will never go anywhere because this is where I belong."
He said he was never there when the new parallel structures were formed and has never gone to Gweru for a very long time.
Ncube said he was willing to start from the ground like any other ordinary member to get to the top after he was suspended last year for undermining the leadership.
According to the new structures of the new Zapu, war veteran Canciwell Nziramasanga was elected vice-president, while Stylish Magida is the second vice president.
Magida who was present at the rally also dismissed claims that she attended the meeting to pass a vote-of-no-confidence in Dabengwa's presidium.
"I am loyal to this party and I will never go anywhere. They have formed a new Zapu and I'm not part of them. I will not betray the values of this party."
It was also reported that the Zapu faction did not only form new party structures, but went into a coalition with MDC-T.
Dabengwa this month sealed a deal with Welshman Ncube's MDC that would see the two parties supporting each other in the constituencies in the harmonised elections.