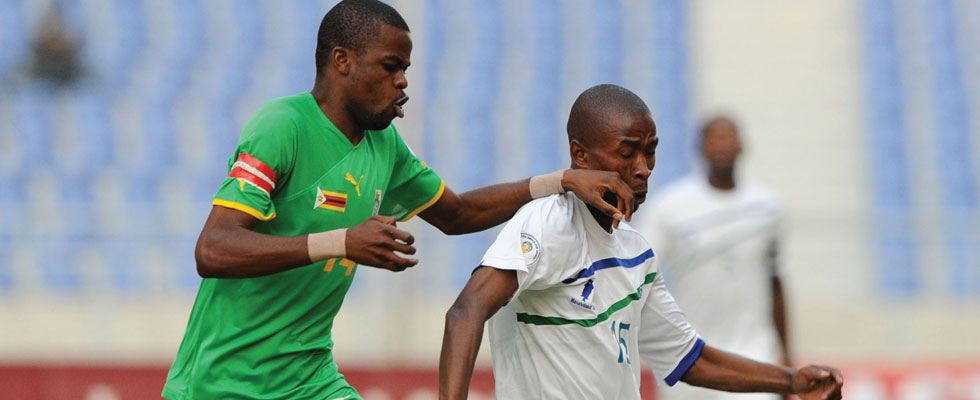 IT is arguably the dream final football fans would have hoped for, but while South Africans will most likely beg to differ, what cannot be contested is that today's Cosafa Cup final featuring regional rivals Zambia and Zimbabwe has all the ingredients to produce a befitting epic battle at the Levy Mwanawasa Stadium this afternoon.
WELLINGTON TONI
After two weeks through the vetting stages, 10 nations fell by the wayside as the two think-tanks Klaus Dieter Pagels (Zimbabwe) and Herve Renard (Zambia) plotted their way to today's final.
The same final set-up prevailed in the last edition of the tournament in Harare in 2009 with the hosts claiming honours and that painful memory has lingered long in the Zambia camp and today on their home soil, they have the chance to serve cold revenge.
Yet the Warriors, playing a brand of football that puts emphasis on style as it does results, have a mission to reaffirm their regional dominance by reclaiming the coveted pot.
Kick-off is at 3pm.
It is the third final between the two nations with Zimbabwe having won 1-0 in 2005 and 3-1 in 2009.
Having seen off the challenge of Malawi (3-1 on penalties) in the quarter-finals and Lesotho 2-1 in the semi-finals, confidence levels have risen and Pagels is plotting an upset.
The Warriors had their last training session at Arthur Davis Stadium in Kitwe yesterday morning — a session that lasted for almost 90 minutes — as they worked on tactical discipline ahead of the big match.
The technical team was avoiding yet another trip to the match venue, 45 minutes away — which would tire the players — and preferred a nearby stadium.
Pagels, in keeping with the trends since he started his revolution, is plotting a few surprises as he tinkers with his starting line-up. Monomotapa's Ronald Chitiyo and Harare City's Silas Songani will not start the match and Pagels explains:
"It's a tactical decision and as you saw from training, we spent time working on some of the tactics for the match."
Chitiyo was named the man-of-the-match against Malawi and obviously the Zambians are planning around him and hitman Tendai Ndoro, who also claimed the same accolade after scoring twice against Lesotho. Zambia captain Bronson Chama will be tasked with guarding Ndoro. Hardlife Zvirekwi will be restored in the right full-back position with Prosper Matizanadzo making way.
Zvirekwi missed the match due to injury, but took part in the afternoon training session on Thursday and yesterday morning.
This means Eric Chipeta will return to partner Felix Chindungwe in central defence with Ocean Mushure at leftback.
Masimba Mambare and Devon Chafa will be the double defensive link with Nicholas Guyo getting the nod ahead of Chitiyo and Ali Sadiki playing behind the strikers while Charles Sibanda has been pushed to the left and Last Chibwiro to the right.
"We need Masimba as an experienced player in the match and although he was fond of attacking against Lesotho, we have spoken about that. The players looked more engaged in training today (yesterday)," the coach said after the session.
For Pagels, more pressure will be on the hosts to please an expectant crowd while he thinks Zimbabwe will play with freedom. "Wait for a surprise. That was a long time ago (the 2009 win)." He added: "There will be more pressure on Zambia because of the home crowd and if they fail to score early, the fans will be on them and maybe we can capitalise on that."
For Zambia, their hopes will lie in dribbling wizard Bruce Musakanya, Jimmy Chisenga, 22-year-old Bonwell Mwape and Mukuka Mulenga. Musakanya was pulled out against South Africa last Wednesday due to injury, but is still expected to play some part in the final. Mwape, of Nkana Red Devils, leads the top scorers' charts in the Premiership with 10 goals from 14 matches and remains the Chipolopolo dangerman.
Mulenga, who stars for Tennant Chilumba's Power Dynamos, will be playing for South African Premiership giants Mamelodi Sundowns next season after both teams finally agreed terms on Tuesday.
Chipolopolo beat South Africa 5-3 on penalties after the match had ended 0-0 after 120 minutes of play in the semi-final.
Zambia coach Renard is upbeat after beating South Africa.
"South Africa were on my 'hit list' and now it is the turn of Zimbabwe," said the man who guided Zambia to a shock 2012 Africa Cup of Nations title.
"We want revenge for those two finals losses against Zimbabwe — there are old scores that need to be settled.
"When a team reaches a final they can have only one aim and that is to go all the way and lift the trophy. My players have captured the hearts of the Zambian people by reaching the final and it is up to them to finish the job," he told a media conference.
Zimbabwe starting line-up: Max Nyamupanendengu, Hardlife Zvirekwi, Ocean Mushure, Eric Chipeta, Felix Chindungwe, Devon Chafa, Masimba Mambare, Last Chibwiro, Charles Sibanda, Nicholas Guyo and Tendai Ndoro.